General Information
Color
: Dodge Viper Anaconda Green
History
: "You have to understand the car; you have to become one piece only.
You have to feel without hearing or to see without seeing what the car is telling you or how the car is reacting."

~Valentino Balboni
Lamborghini Test Driver for over 40 years

...
I don't need no stinken bottle.
~Rick P. (Member: r429460)

My one and only Thunderbird. I purchased this car brand new in September of 1994. My first major upgrade to the car was a complete suspension rebuild completed in January of 2007. With the assistance of, and a special thanks to Jason (FordPartsCounter) and the Carolinas Crew Chief, RobertP, I added the 3.73 gears and J-mod in May 2007.
In January 2008 I bought the rims and had them installed on the car in May of 2008; it took me some time to save the money for tires.

After almost 15 years the stock engine was retired in August of 2009 at just over 205,000 original owner miles and replaced with a 2004 Explorer PI motor with an SVO Supercharger.

These upgrades yielded a 116% increase in HP, a 63.7% increase in torque and an improvement of 3 seconds in the quarter-mile over the old N/A engine.

2012: The year of the new Bird

Besides having the car painted this year I snuck in a few changes under the new hood. Once again, with the guidance and assistance of the Carolina Crew Chief the new Trunk Monkey Racing Thunderbird was born. To my knowledge, the only Trick Flow / SVO MN12 Thunderbird in existence anywhere.

2013: The upgrades continued

In 2013 the half-shafts were upgraded with DSS Level 5 shafts, the Mark VIII LCA's were installed in back with DLF bushings and drag bags were also installed. In addition to the rear end rebuild the car was converted to run E85. Stay tuned for an even faster 1/4 mile as we continue to dial in the new set up!

2018: A whole new engine

After blowing up the old engine on my way back from Carlisle in June of 2015 I was forced to reconsider my power plant options. This time I went with a BOSS 5.3L stroker and upgraded Trick Flow Heads. See below for all the new build details. During this time I also stepped the gears back from 4.10's to a more highway-friendly 3.73.

2019: Upgraded the torque converter from the old single disk DirtyDog to a new CircleD Triple-Disk with mechanical diode at 3800 to 4000 stall.
_____________________________________________
Videos:
Videos
from the
GoPro HERO
®, HD Motorsports Camera
and the
Canon EOS 60D
Digital SLR Camera
My Car
Joel Bender / Brian Klein Memorial National Summer Blast Videos
Racing Videos
Stay tuned for new videos from these amazing cameras.
_

Awards & Honors

Shows
Best in Class - ProDyno Fall Cruise In - November 2019
Second Place - 2015 Carlisle Ford Nationals, 1989 - 1997 Thunderbirds - Modified
First Place - 2014 Speed Weekend Car Show, Martinsburg, West Va. - Street Rod Class
First Place - 2013 Ford Fun Weekend, Parkersburgh, VA - Thunderbirds Class
First Place - 2013 Carlisle Ford Nationals, 1989 - 1997 Thunderbirds - Modified
Third Place - 2010 JB/BK Memorial Nationals, 89-97 Thunderbird LX
Best in Class - 2008 Food Lion Fall AutoFair, Charlotte Motor Speedway - Thunderbirds - Modified
Racing
DYNO NUMBERS
NEW ENGINE
November 2, 2019
STD: 444.73 rwhp / 436.60 rwtq*
*With torque converter not fully locking
Old Engine Numbers

December 20, 2013 at ProDyno - Fort Mill, SC
STD: 412.54 rwhp / 437.07 rwtq
SAE: 401.73 rwhp / 425.62 rwtq
Watch the dyno video
HERE
.
Old Numbers

March 27, 2010 at ProDyno - Fort Mill, SC
1st Pull:
382.92 rwhp
/ 388.71 rwtq
2nd Pull: 375.94 rwhp /
392.02 rwtq

Run Conditions:
Temp. 74.77° F, 29.73 in-Hg, Humidity 10%, SAE 1.01
Watch the old dyno video
HERE
.
_

CURRENT STATS

Vehicle Weight
3,945 lbs. with 5/8 tank gas and Driver
3,760 lbs. with 5/8 tank gas
Performance Ratios
Power to Weight: 0.1097 hp/lb
Weight to Power: 9.114 lbs/hp
Quarter Mile Times
​
Best 1/4 mile time: 11.335 @ 122.43 MPH​
- November 18, 2018 at
THE ROCK
- Rockingham Dragway​
​
___​
​
Last best 1/4 mile time (Old Engine): 11.653 @ 117.96 MPH​
- December 7, 2014 at Fayetteville Motorsports Park​
​
Lifetime best (Old Engine): 1/4 mile time: 11.566 @ 118.05 MPH​
​
Run Conditions:​
Elevation 165 Feet, Temp. 50.0° F, 30.05 in-Hg, Humidity 33%, Dew Point 21.0°F​
Density Altitude: -560 feet​
​
Tires:
Sumitomo
HTRZ III's
in front and 285/40/R18
NITTO
NT05R drag radials out back​
_

Top Speed:
Mach 0.22
Somewhere north of 170 MPH (In Overdrive)
145 MPH (In 3rd Gear at Rev Limiter)
Zero to 60 MPH:
3.6 seconds
Zero to 100 MPH:
8.0 seconds
CURRENT MODIFICATIONS

Engine Monitoring / Management
AeroForce Interceptor
Scan Gauge with Boost/Vacuum Sensor
SCT PRP
Programmed by Rob's Tire and Auto
EEC Reflash - 7,000 RPM Redline ?
Engine
Trick Flow Powered Ford Racing 5.3L / 323 ci stroked BOSS block with a balanced rotating assembly.
Block
The Ford Performance M-6010-BOSS50 Boss 5.0 block is a 4.6L deck height, 94mm cylinder bore cast iron block. The block uses a proprietary iron mix to yield the strongest possible casting strength with the least porosity and greatest consistency.
Block Weight: 165 lbs.
Siamese 3.701" Bore x 3.750" stroke
17mm main web minimal thickness
4 Bolt main with interference fit nodular iron machined caps
Increased main web window size for improved crankcase breathing
Crankshaft, Pistons & Rods - Metal in Motion
Eagle® 3.750-inch stroke forged steel crankshaft with 8 bolt flywheel pattern
Mahle® forged aluminum pistons with a dish that is compatible with 2, 3 or 4 valve heads
11.56:1 Compression Ratio
Heads
Trick Flow Specialties
TFS-5291B002-C01 - Twisted Wedge® 44cc, 2-valve, Race 195 Cylinder Heads for Ford 4.6L/5.4L
Altered Intake Valve Position
OE PI-style Intake Inlets
CNC-profiled combustion chambers
3/4" thick decks
Patented replaceable cam bearing journals
3/4" Reach spark plugs
Fully CNC Competition ported runners with a premium high resolution surface finish
Larger, stronger valves
Race-duty valve-train components capable of 8,000-plus RPM
Key Differences over my
previous TF Heads
Exhaust Runner Volume (cc) 95cc vs. 93cc
Exhaust Valve Diameter (in) 1.470 in. vs. 1.450 in.
Intake Runner Volume (cc) 195cc vs. 185cc
Intake Valve Diameter (in) 1.900 in. vs. 1.840 in.
Cams
Cushman Motorsports
(VT)
Stage 2.5 Blower Cams
.536/.540 lift, 228/235 .050 duration, 114 LSA
Lubrication & Filtering
Melling Select Billet Aluminum High-Volume, High-pressure Oil pump circulating Mobil 1 Synthetic, 5W-40
JLT Performance Oil Separators
Cooling
Custom built
FLUIDYNE
3-Core, Single Pass Radiator
Meziere Electric water pump
Motorcraft 180° T-Stat (Winter)
Stant 170° High-Flow Performance T-Stat (Summer)
DANA CORP.
, LONG Tru-Cool MAX 45,000 BTU
Auxiliary Transmission Cooler
Drive Train
Circle D Specialties 3,800 - 4,000 RPM Stall, 9.5" Billet, Triple-Disk Torque Converter with Mechanical Diode (Installed - December 2019)
2003 Mustang GT 4R70W Transmission with Stage II custom build to support 450-550 rwhp by RobertP at Rob's Tire and Auto
2003 Valve Body with 300 - 450 HP Jmod
Dynotech Engineering 3.5" Dia. 6061 T6 Aluminum Driveshaft
FRPP 3.73 Gears with Traction Lock
1994-2004 Extended Range, SPEED-CAL
Half-Shaft Axles
Drive Shaft Shop
Level 5 Half-shafts rated up to 900 RWHP
4340 (Chromoly) Alloy Steel, 28 spline inlets
300M Alloy, Oil Quenched & Double Tempered Vacuum Melted Silicon-Vanadium Steel shafts
4340 (Chromoly) Alloy Steel, 33 spline outlets
Ignition System
OPTIMA
® Digital 1200 12V Performance Battery Charger and Maintainer
Monster Performance Car
200 Series
Top-Mount Battery Terminals
ACCEL
140018
EDIS
Coil Packs
Magnecor KV85
Competition (8.5mm) Ignition Cables
Motorcraft AGSF-12F-M1 Iridium/Platinum type plugs
Gapped at .038"
FINE wire electrode
FULL thread type
Two heat ranges cooler than stock
OE Ford F-150 SVT Lightning plug
Fuel / Air Delivery
60 lb/hr
Ford Racing
Fuel Injectors with JETRONIC to USCAR adapters
Billet Adjustable Fuel Pressure Regulator - 2 hole design
TI Automotive (owner of Walbro) 465 LPH Fuel pump from
FORE Innovations
At 40psi and 13.5 volts
:
Flows 465 lph in Gasoline
Flows 430 lph in E85
Custom Cold Air Intake
K&N RU-2590
Cone Filter
CFM Performance
90mm MAF 4" Air Filter Adapter Flange
90mm Lightning MAF Meter
'03 Mustang GT Intake Tube
75mm
BBK
Roush Performance
Throttle Body
Federal Mogul
Fel-Pro
MS 98008 T-1
Rubberized Aluminum intake gaskets

Ford Motorsport SVO
EATON M112 (4th Gen)
1.7L Supercharger
13 psi of Boost with these pulleys
Blower Cooling
Alcohol Injection Systems
, Trunk Mount Water Methanol Injection with 14 GPH nozzle
50/50
RENEGADE Methanol
/Water Blend
Exhaust System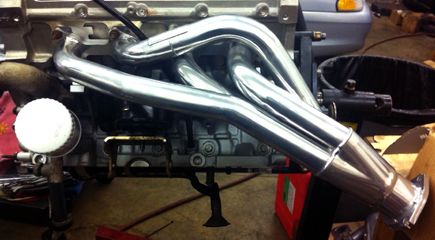 Mid-Length
KOOKS
Headers: 1-5/8" Primaries into 2.25" Collectors
Aluminum/Ceramic
coated by
AirBorn Coatings
, Mount Holly, NC
No Cats
EGR Delete
Mandrel Exhaust Systems
X-Pipe
True Dual 2.5" Mandrel Bent Pipes
Borla Pro XS
Mufflers, 2.5" Offset in / Center out, Part #40358
Borla Single Square Angle-Cut Intercooled Tips
_
Modifications
Interior
Stock & Clean
LED Lighting upgrade in 3rd brake light, instrument cluster, doors and foot wells
Audio
Pioneer DEH-80PRS Head Unit
JL Audio 10" Subs, C2 Speakers and JD Series Amps
800W Total System Power
Suspension
[b]Springs[/b]
[URL="
http://vogtland-na.com/en/index.php"]Vogtland[/URL
] Springs - 1.0 inch Closer to the Road
Air Lift Rear Coil Spring Drag Bags
[b]Front[/b]
Moog Performance Upper Control Arms
OEM TRW Thunderbird Super Coupe Lower Control Arms
KONI Adjustable Shocks
Stock 1.06" Anti-Sway Bar
[b]Rear[/b]
16.8 lbs lighter than stock - Aluminum Mark VIII LCA's with
Delrin LCA Bushings and UHMW spring perches by DLF
*Note: These bushings are now made by Jay (98mark8ls) - See this thread for details.
1.25" ADDCO Anti-Sway Bar
99-04 Cobra Bilstein Sport Shocks
[b]Additional Bracing[/b]
Stock V brace with Thunderbird Super Coupe L Braces
Gallery