Discussion Starter
•
#1
•
I was initially going to put this in the exploded view thread, but it's rather part specific and diverges from that thread's primary concern. It could go in the valley pic thread, but it involves part replacement info, not merely images of a valley. If mods feel the need to move it, so be it.
After stupidly cracking off an upper corner of my plug/cover, I later found that it was cracked in at least one other place, so I decided to forget any attempt at repair and removed the whole thing.
If one is careful, it can be broken apart in 5-6 pieces and extracted w/o having bits fall down, because the block actually goes back under it, catching pieces. I didn't realize this at the time, so I was super careful to hold onto all pieces as I dismembered it.
Lesson learned (again). Plastic embrittlement in the engine/bay = don't touch anything you aren't prepared to replace. Don't even look at it wrong. Don't even think about looking at it or it might crack. I still have to replace that TPS harness connector that shattered into a dozen pieces upon [non-aggressive] removal. pfft!
Ford calls this a
converter inspection hole cover
. Since it takes some maneuvering to get one's finger up and over the metal tab back there, it seems the only way to inspect the converter would be via fiber optic camera probe.
Welp, I'm not going to leave that gaping hole back there, so...
Time for a parts guru to chime in, as there are multiple part numbers for this cover. I need to be sure I'm ordering the correct one. It's still available, assuming I inquired using the correct part number, but the nearest stocking dealer is over a hundred miles from me. Nearest non-stocking dealer that won't charge me freight to order it is far enough away that 2 round trips would cost more in gas than inflated shipping from an online source. bah!
I'm not going to bother with junked cars, for obvious reasons.
The part numbers I've gleaned thus far are:
F3AZ-6C070-AA
F65Z-6C070-AB
Unless I'm mistaken, Ford code translates to:
F = 90's, 3 = '93, 6 = '96, A = full sized Ford (Crown Vic?), Z = Ford service part, 6C070 = base part number, AA = first release, AB = first revision (supposedly revision parts will fit first release holes, but not vice-versa; revised lip must be larger for a larger revised hole? :zdunno
WTH does the "5" in the second part number denote? I couldn't find that on any Ford decoder online -- all of them list LETTERS in that spot, no numbers.
The Ford parts catalog shows 6C070 as
two different
parts on the 4.6L block with different prices.
Check
this out
and tell me it looks like the rear valley plug!
So, ordering any 6C070, even the same year, isn't necessarily going to get me the part I need. Gotta love it!
It gets better.
They list both part numbers with descriptions on
this site
, BUT the AZ part is listed as "rear valley hole", while the 5Z part is listed as "converter inspection hole", with different prices.
Sound good, right? I should order the AZ, of course! mmkay, now check this out:
Scroll down
this page
and see the highlighted part in the diagram is the correct part, but the part number listed is the 5Z, which is apparently the converter inspection hole plug, which is different than the rear valley hole plug.
Clearly, with different numbers having different prices, and the image of the catalog diagram being completely different and in a different location than the valley, there ARE two different parts with the number 6C070.
So, DOES the 5Z fit my AZ hole or not? Do I even HAVE an AZ hole?? <--- don't even go there (literally or figuratively!) :facepalm:
Pics for those who are curious what my AZ hole looks like and haven't seen it up close and personal (tried typing that with a straight face, but couldn't do it):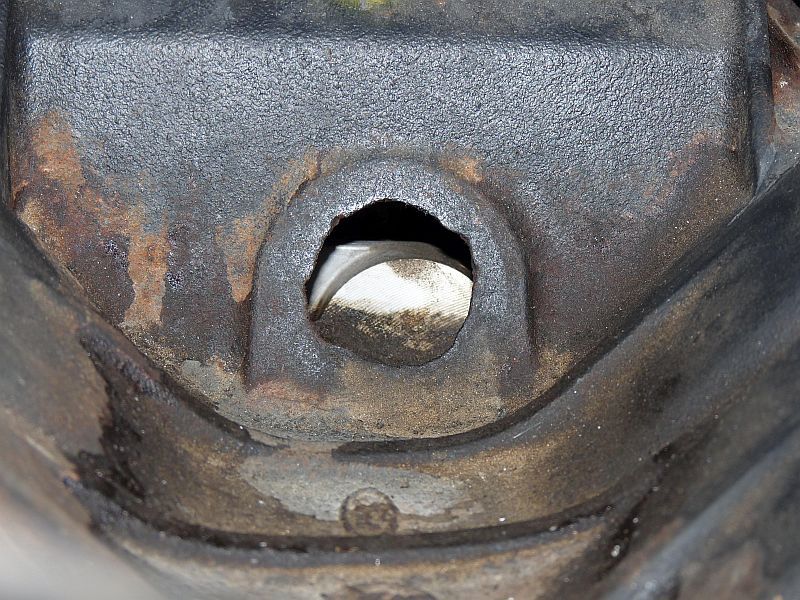 A higher angle shot, showing how the block continues back a ways, making it somewhat safe to break up the plug for retrieval: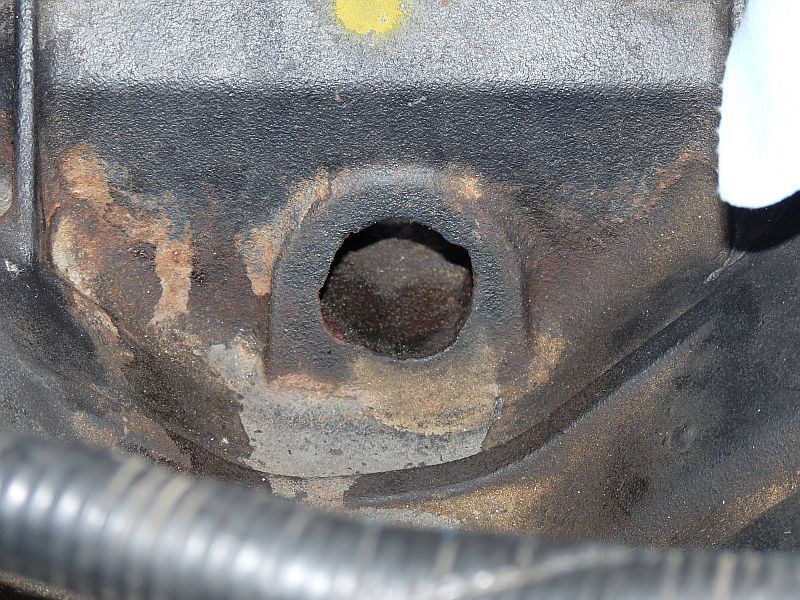 Now I just need to find the right plug for my AZ hole and I'll feel much better. (sorry, I couldn't help it)