Discussion Starter
•
#1
•
anyone got any advice on repairing a slight bit of curb rash on the bead lip of a painted factory wheel?
ive got a set of 1F22-1007-AC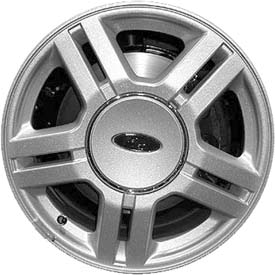 but they are slightly rashed in places and ive been doing a bit of research to find a decent method of filling the deeper rash and matching paint on them. some people recommend metal filler puttys and fine sanding, etching primers, and completely painting the wheel since its devilishly hard to match the metal flake.
i was just wondering if theirs an easier method of doing this without painting the whole wheel, i mean the paints perfect everywhere else but the bead ridge...
its like the person driving the van was bouncing off curbs all day and night with it till they finally smashed into somebody + somebody else smashed into them...
(how the van looked when i dug the rims out of it and the local picNpull...)
one of the rash marks is about 6" long and maybe 1/8" deep. i'm not sure metal filler would hold up if the wheel weight ended up needing to be hammered onto it. don't have a tig welder or i would just fill it with alum rod and be done with it...
anyway, i figure somebody has got to have some decent body work knowledge here that could maybe give us some pointers and some products to look at for alloy wheel repair. im definitely no expert on primers and paints...