Discussion Starter
•
#1
•
Let's start a new thread here to discuss how to manually adjust the EVO Solenoid to raise/lower the level of assist.
As some of you may know, unplugging the controller from the EVO Solenoid actuator on the PS pump will make it default to "full assist" mode.
I'm personally polling my team to see if they would prefer to lower the level of assist or leave it alone. I'm on the fence here as I think my specific lemons car suspension is stiff enough now that lowering it might give us better sensitivity at speed (might be a hair too light).
GROG6 Started this conversation in my Race 7 recap thread and provided a ton of good info
http://forums.tccoa.com/26-racing/180730-results-experiences-our-7th-24-hours-lemons-race-tbird.html#post1938274
EVO Module Pictures from XR7-4.6
http://forums.tccoa.com/7-engine-4-6l-5-4l/141021-move-along-people-nothing-see-here-2.html#post1552257
EVTM Diagrams from Rayo
http://forums.tccoa.com/7-engine-4-6l-5-4l/141021-move-along-people-nothing-see-here-2.html#post1552433
Pinout of connector going into the EVO control module from XR7-4.6
http://forums.tccoa.com/7-engine-4-6l-5-4l/141021-move-along-people-nothing-see-here-2.html#post1552433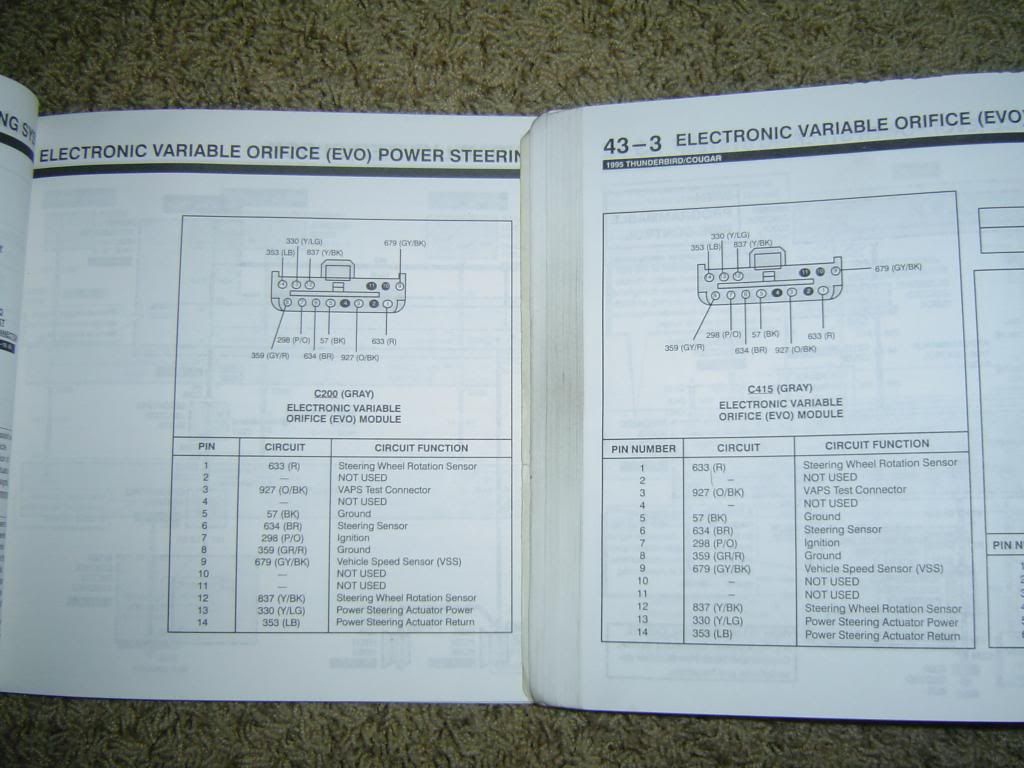 Two leading solutions:
1) Add shims to the EVO Solenoid to lower pressure
2) Create a box to send the right signal
My thoughts
#1 will require a bit of trial and error here (I don't know how thick a shim to use and since my tbird isnt' street legal, I cannot contribute here).
Bills Hot Rod Company
Therefore, I will focus on #2:
* I see from the block diagram that the VSS is a PWM signal. For some of you, emulating/replacing the VSS signal might be good enough but the law of unintended consequences may come into play here as the EVTM ALSO mentions that this signal is used for determining the upshift schedule. WHile this is a "dont care" for anyone with a manual transmission, I don't have this EVO wiring on my car anymore so I cannot just mod the VSS signal for my personal needs.
My suggestion if you went this route is to look at a cheapie arduino. You can rig up a potentiometer as a dial and it the arduino can generate a 5V PWM signal without any fuss (0-100% duty cycle). I'll help with the code if you need it.
https://www.arduino.cc/en/Tutorial/PWM
* It seems like the signal going to the EVO solenoid may actually be a PWM signal. This seems wierd to me but I guess it makes sense if you consider that solenoids really only are ON or OFF so if you are trying to adjust flow of fluid and the solenoid is blocking the way, adjusting between ON/OFF makes the most sense.
The best way to confirm this would be to have someone put a multimeter on the Y/LG to LB voltage differential at the plug where it goes into the EVO solenoid while the car is running (but not driving). it could also be the opposite of what I'm suggesting below but I wouldn't know without being able to put a voltmeter on a car with a currently working EVO system (some voltmeters can also measure duty cycle BTW so you can put to rest what kind of signal this is and how high it ranges).
https://www.amazon.com/Multimeter-Auto-Ranging-Capacitance-Frequency-Temperature/dp/B015OFMUYO/
Gunn's thoughts:
- Right now, the signal is 0% duty cycle so it's at FULL ASSIST with the connector unplugged.
- If the signal is 100% duty cycle (which could be 5V or 12V -- I really don't know), it should be MIN ASSIST. I don't see how this would wear out the solenoid since it will just be pushed out all the time (vs going in/out according to the PWM pulses)
NOTE:
You can easily output/control a 12V PWM signal from an Arduino without much effort.
Arduino for Beginners: Controlling a 12V DC motor/fan with an Arduino
There's also a $34 12V tolerant Arduino you can buy off the shelf but that board is probably significant overkill for this simple project (unless you have other plans like using the Arduino to read OBD2 codes/signals and make decisions (library still in early development though so I don't expect you'll get far in the near future).
Macchina