For sale:
Allen Engine Development Supercharger Kit 4.6L M-90S
Arb E.O. No. D-423-4
AED-0347
$3,900 shipped, firm.
Contact info:
[email protected]
I'm the original owner and bought it straight from AED. Paid about $4,600 before shipping for just the kit.
Included in Kit:
-Intake manifold
-Intercooler, internal air/water
-MPX-Extreme blower case
-Heat exchanger, external front bumper, air/water
-Intercooler water tank
-Water pump
-AED fuel rails
-70mm throttle body, Ford
-Silicone TB connector
-MAC Air intake tube
-Plastic adapter for MAF
-K&N air filter
-Stock Explorer Air filter box, moded to fit 90mm MAF fitment, drilled 4'' hole to adapt a cold air tube to front of bumper
-Alternator lower AED bracket
-Alternator upper AED bracket
-All hoses and hardware for installation
-Installation instructions
-2.5'' 6 rib blower pulley
-Brand new stock tensioner
-2.65'' 8 rib blower pulley, custom piece
-8 rib alternator pulley
-8 rib power steering pulley
-8 rib A/C pulley
-Mustang A/C compressor for 8 rib pulley
-Four 8 rib wide idler pulleys
-8.5'' 8 rib custom dampener
-Auto Meter Boost gauge
-Intake restriction vacuum gauge
-Two Snow Performance 175cc meth/water nozzles
-Snow Performance T-fitting for dual nozzles
-Snow Performance safe injection
-Stock M90 blower case
-Water inlet tube
This kit if for a direct bolt on Explorer/Mountaineer 2002-2005.
It is also the same REVII kit used in the 99-04 Mustangs AED kit. A few parts might differ, but the intake, plenum, is the exact same.
Can also be installed on a non-PI motor.
Upgrades included in the purchase with less than 75 miles of use:
1) Magnum Power MPX Extreme blower case: $600
2) Intake work for the MPX case done professionally from Kearney Mesa Welding: $600. This was very inexpensive. He said if he had to do it all over he would have charged about $1,500, lots of work.
3) Then it was sent to Magnum Powers to surface the case to the intake manifold, and for Charles's (co-owner Magnum Powers) to inspect and approve all modifications, just to make sure everything was right. He also inspected the rotor tolerances while it was there. All was well: $250
4) Custom 8.5'' 8rib dampener: $275
5) Custom 2.65'' 8rib blower pulley: $105
6) A/C 8rib pulley, can't remember the price but approx $30
7) Power steering 8rib pulley, can't remember the price but approx $30
8) 4 8rib idlers, can't remember the price but approx $60 for all
9) Brand new never used stock tensioner: $45 (recommend upgrading this is used with the 8.5'' dampener, not strong enough).
10) Intake restriction vacuum gauge: $15
11) Auto Meter Boost gauge: $50
Other upgrades included in the purchase
1) Mustang A/C compressor for 8rib pulley: $75
2) Dual nozzle setup, Snow Performance $35
3) Dual 175cc nozzles, Snow Performance $50
4) Safe Injection, Snow Performance $205
5) Gasket matched manifold runners: $150
$2,500 worth of upgrade and none of those prices include any shipping or taxes.
The AED has approx 7,000 miles of use. 3,000 miles of that was from a cross-country trip in 6 days all highway trip. Since new it has seen three oil changes.
The intake manifold has undergone some fabrication to port match the bigger inlet for the new Magnum Powers MPX Extreme blower case. This case is designed to withstand many more blower RPM's than the stock M90 case. It is made of stronger material and will not warp when over spun like the stock M90 case can. It has a much bigger inlet and outlet ports:
http://www.magnumpowers.com/tbrd_MPx.php
This new MPX case and intake manifold work only has about 30 miles of use and some dyno pulls. My goal was to become the first 2V / M90 to break the 400whp mark. It was accomplished on June 15th 2009. This was done on 91 pump gas + meth/water.
Here is the dyno chart: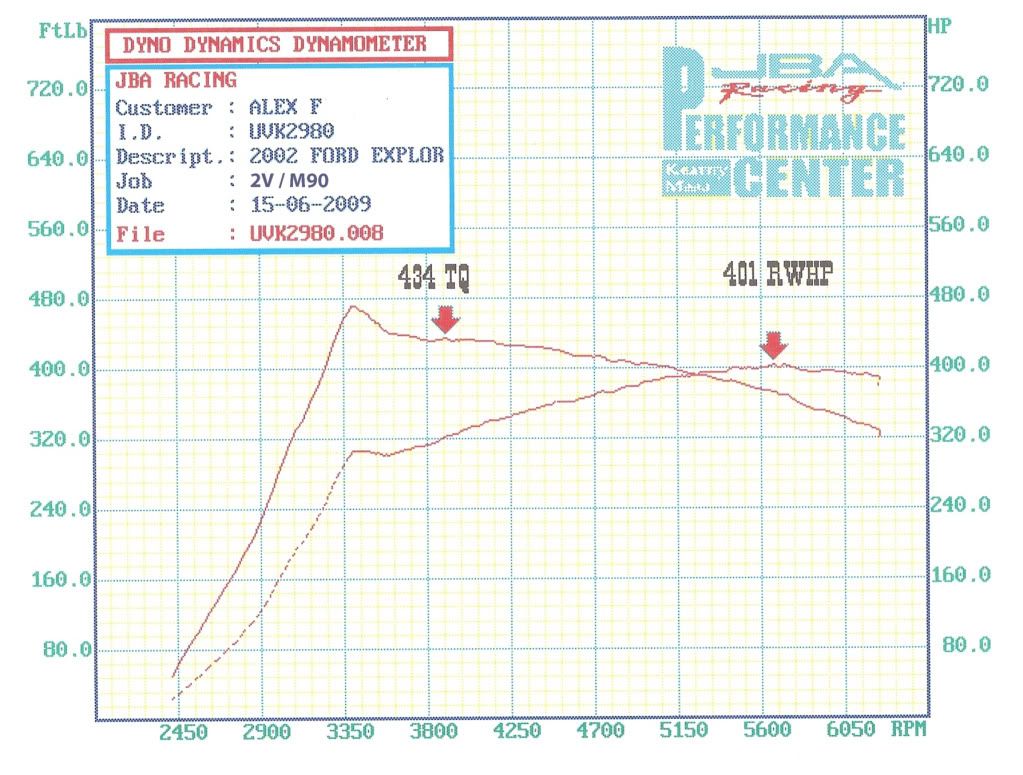 <embed width="448" height="361" type="application/x-shockwave-flash" wmode="transparent" src="http://i205.photobucket.com/player.swf?file=http://vid205.photobucket.com/albums/bb148/awdrocks/02%20Explorer%20awdrocks/2vm90400whp06_16_09.flv">
Dyno above was with: 304ci big bore, Fox Lake Stage II heads w/ comp 270's, JBA shorty headers, true dual 2.5" exhaust, Flow Master Super 40 mufflers and Snow Performance water/meth injection.
It was fitted with two custom 8 rib 8.5" dampener and a 2.65'' blower pulleys. This combo spins the blower at about 20,000 RPM's. 401whp was done at only 9psi, this blower is very efficient as other setups with fully built motors and better exhaust seen about 12psi with about the same 20,000 blower RPM. ACT's with the water/meth got as low as 115* and averaged 130*. The 401whp pull was after some heat soaking and a slightly leaking fitting on the meth and went up to 169*. So im sure it would have made more power on a fresh pull between 115*-130* air charge temp. This was also with very heavy 44pnd 295/40/20 tires on 20x10 Anteras, long Explorer drive shaft and automatic transmission.
The lower intake manifold has a welded nipple to connect an intake vacuum gauge to measure the intake restriction. I will include the gauge with the kit. This aids in zeroing down the intake restrictions. It read about four points on the gauge at WOT, so it still has a lot more in it by reducing that restriction. Next step was to add an 85mm throttle body by working the intake plenum, dropping down to a 2.0'' blower pulley for another 6,000 blower RPM's, and change out to a 10rib. Long tubes, 3'' exhaust, with a few more mods, and this will tip 500whp, on an Explorer. Throw this setup into a 5speed Mustang and it will do much better.
This AED is already prepped to keep spinning it faster. Controlling the heat and belt from slipping and it will keep packing power, just need to plan right and execute. I would prove it but I have decided to go to a much bigger supercharger. The current m90 world record that I know of is on a Acura NSX at 490whp. This setup can have that record in the bag. The numbers I mention are not even considering Trick Flow heads or a 324 short block. So there you have it, the kit and recipe to take an 2v/M90 beyond what was thought possible.
The 401whp was also made with no Teflon on the rotors. Another advantage of the MPX case as that is has tighter tolerances rotor to case than the stock case. So un-Tefloned rotors + MPX case, has the same tolerance as the stock case + Teflon. I decided to keep the Teflon off the rotors because the methanol eats away at it. If you run the kit without the meth, you could get them recoated and it will prob be good for another 5whp.
Kit can also be used as any ordinary AED kit for a completely stock motor. It will make more power more efficiently than a stock setup. This kit is prob one of the most reliable and sought after kits for a daily driver, and since AED went out of business, they are rarer and rarer to find. Taken care of it there is no reason why it cannot easily see 100,000 miles and beyond problem free. It has its own oiling system.
No expenses were spared. One of a kind kit, my lose your gain.
The kit was also painted Ford blue.
Here are the pictures:
These pics are before the MPX upgrades: