This is an extra set that I had. Figured someone else should make good use of these. 1-5/8" OD primary tubes.
The good:
Complete steering shaft clearance due to custom TIG welded #7 & #8 primary tubes.
3" diameter collector for ample exhaust flow on highly modified cars.
Properly placed, TIG-welded O2 sensor bungs including a third O2 bung for a wideband A/F O2 sensor on driver's side header.
Primary tubes on driver's side header "flanged" together while securely mocked up to a cylinder head to eliminate variations in the individual flange positions due to weld distortion.
Coated with (3) VHT ultra-high-heat header paints---triple coat: gray primer, silver/gray, and clear.
Direct drop-in, no other modifications are "necessary".
Cap-off bung plug w/copper washer will be included to cap the third O2 bung in the event that it will not be used, or used only for dyno tuning.

The bad:


Passenger side header was the worst of all the longtubes I had, due to rust. There was some pitting on the #1 primary tube, which I sliced off and then replaced with clean pieces of 16ga mild steel which were then TIG welded in place.
Other small rust pitting I deemed necessary to fix, I fixed by sandblasting the affected area and individually "tack filling" the pits with my MIG welder and grinding the tacks flush with the tubes. (Very painstainkingly time consuming!! Must have done 50-60 of these!! lol)
There were still some very shallow pitting left, but they were only 0.010-0.015" deep. 16ga is 0.065" thick, so I deemed it not truly necessary to fix these as it would take up weeks worth of time. They were sandblasted and cleaned with acetone thoroughly before applying VHT header paint.
While the Passenger side #1 tube comes as its cosest to the frame rails/shock tower at about 1/4", the driver's side header's #5 primary has only about 1/16" clearance. My headers that I made for my car do not have this issue, so I can only assume that this is just a factory tolerance when they were made at MAC. Nothing I could do about this, as I wasn't about to modify yet another primary since I didn't have any more spare tubing. The good news is that under load, the engine "rotates" towards the passenger side shock tower, where there is ample clearance. If you wanted the remedy this situation, you can grind the holes in the motor mount support on the K-member a bit and elongate them towards the passenger side, in order to shift the engine just a smidge, allowing for slightly better clearance.
Unfortunately, I forgot to add in some steel to connect all the individual flanges together on this pass. side header before I painted them, so the #1 flange hangs about 3/16" away from the exhaust port (see pic of flange against the wall). This is a non-issue as it gets pulled into place wayyyy before reaching the standard 18 ft*lbs of torque on the M8x1.25 bolts. Even if I had remembered to fix this, I would recommend you use Stage8 Locking header bolts for peace of mind.
As these are deemed a "custom hot-rod, home-made product", I cannot assume any responsibility if you buy these and can't get them to "fit" in your car. My car has ChuckW heavy duty motor mounts, so my clearances might be slightly different than yours if you have stock MN12 engine mounts/isolators. All sales are final/ sold as-is/no returns.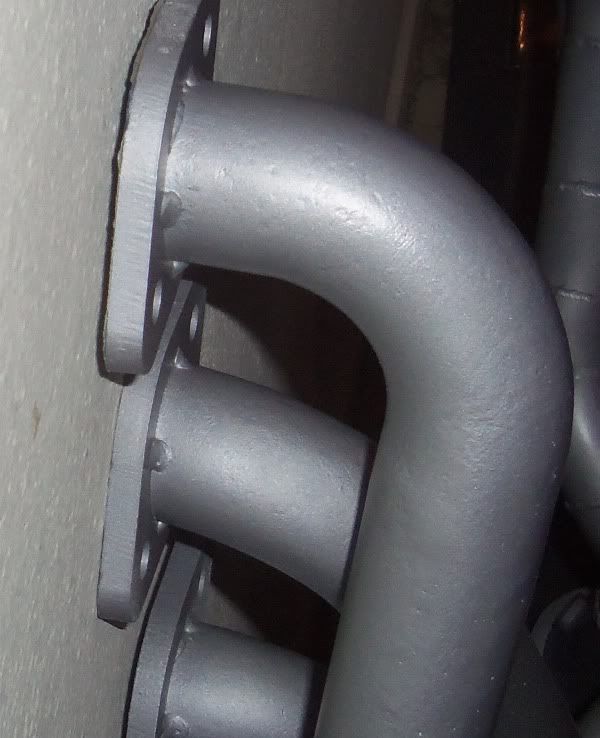 Now, pricing.
Ebay-style reserve auction, starting at $0.01 + actual shipping+ shipping materials cost, ending June 17, 2013, 12:00AM CST (effectively sunday night 6/16/2013 at midnight, in other words). Payment due immediately upon end of auction.
If winning bidder doesn't pay up, immediate lifetime ban, with absolutely no hope of ever rejoining TCCoA (we relentlessly check duplicate accounts/IP's and can and will weed you out! ) I reserve the right to deny anyone's bid for any reason.
Shipping weight is 38lbs total.
Box dimensions approx. 48" x 16" x 16" for each box (two separate boxes).
My zip is 78046. Shipping materials cost will be set at a fixed $20. It is your responsibility to check shipping costs (via UPS/FedEx/USPS only) to see if you can afford them. No excuses like "oh I didn't know shipping would be so high" or "I forgot to factor in shipping costs"---immediate lifetime ban if you don't comply!!! Not here to waste time. Wanna kick tires, go to your local junkyard.
So do whatever you have to do to make sure you get the high bid---lie, cheat, steal, war monger, kill (jk
) to get these as I will NOT be modifiying any more longtubes for the 4.6 MN12 ever!
Let the bidding begin.....NOW!