Discussion Starter
•
#1
•
Well, might as well post it. It's up to almost as much as my Ninja cost me.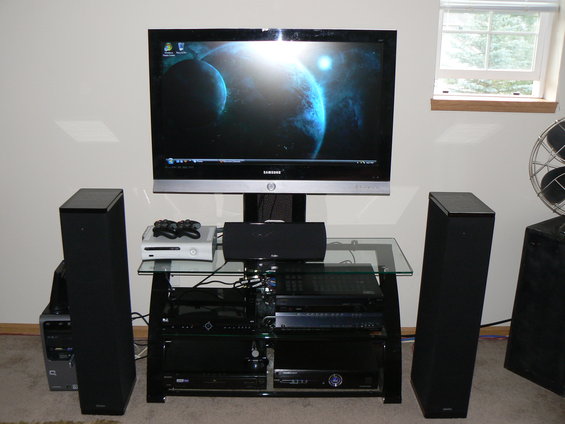 Samsung LN-R409D
Onkyo TX-SR605B
Onkyo DS-A2X
Panamax M5300 EX
Sony DVP-NC85H
XBox 360 Premium (No HDMI)
Compaq Presario Vista Computer
Definitive Technology ProCenter 2000
Definitive Technology BP6 Pair Front
Mirage Omni 350 Black Pair
Speakers from Pioneer Elite for Left Side (pair ran in parallel to fit above futon)
PartsExpress Plate Amplifier
Kicker SoloBaric L7 10" in custom ported box on right side
I have the games, DVDs, mini fridge, microwave and Pizzaz Pizza Cooker in the closet. I have yet to hook up the rest of my game consoles, but I'm considering hooking them beneath my bed, and running a video switcher to my receiver to save space on the stand. I'll probably hook the PS2 on the stand because of the digital optical cable.
Yes, I bought the stand at Wal-Mart (Z36 for $200), but I couldn't find one anywhere else that looked as good, could hold as much, and had the TV mount for my stand-less LCD (stand had originally broke, got TV for $500).