Discussion Starter
•
#1
•
Took the car to Sacramento Raceway today...first time I have ever run a car down the track....ever....the first run was absolutely horrible. I spun and spun and spun and spun and fishtailed off the line and eventually had to let off or else I would have crashed into the wall...I ran a 17.619 @ 89MPH
and was beat by an acura integra
Now the second run was different...better, not as good as I would have hoped, but better. I did not spin off the line, barked 1-2 AND the 2-3 tranny shifts...I have NEVER EVER EVER heard it bark into 3rd gear...so that was cool. I ran a 14.992 @ 92 MPH and beat a red Pontiac Grand Prix GTP
Here are my timeslips I am "Left Lane" and "car # 3809" BTW sorry about the large photo, it's the only way my scanner would give anything that I could actually read...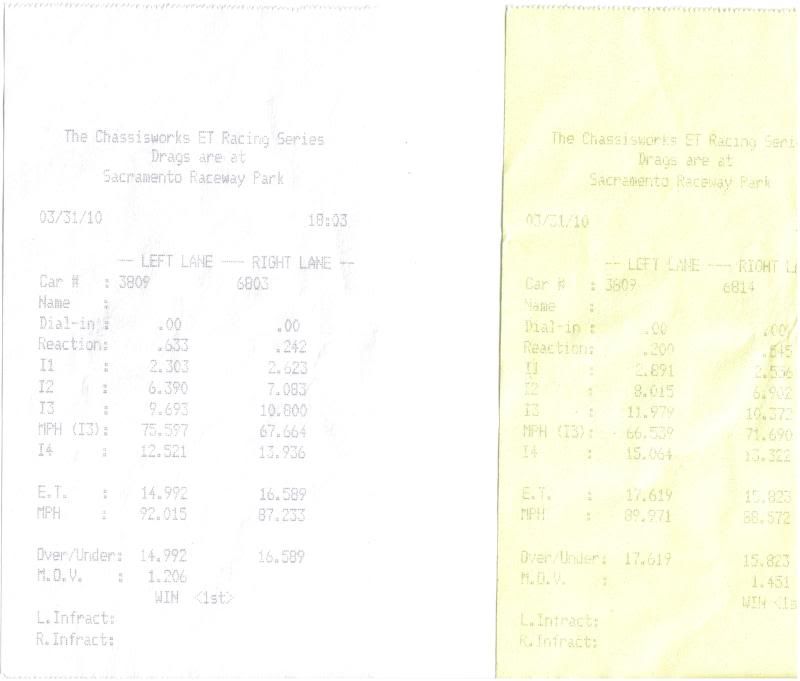 I only ran twice -- I wanted to run more, and the track was absolutely empty tonight...probably because of the weather...it was cold and we just missed the rain. After my second run, my transmission fluid temp was at 200 degrees, according to my scan guage...I'm not sure what the problem is lately, but the trans has been running hot...so, I parked it and let it cool off, so as not to destroy anything...gonna do a fluid/filter flush and add a trans cooler and maybe do a J-MOD to the trans before I take it to the track again...but definately fun
and I think it will run low to mid 14s all day long if I can just get some practace in...