Discussion Starter
•
#1
•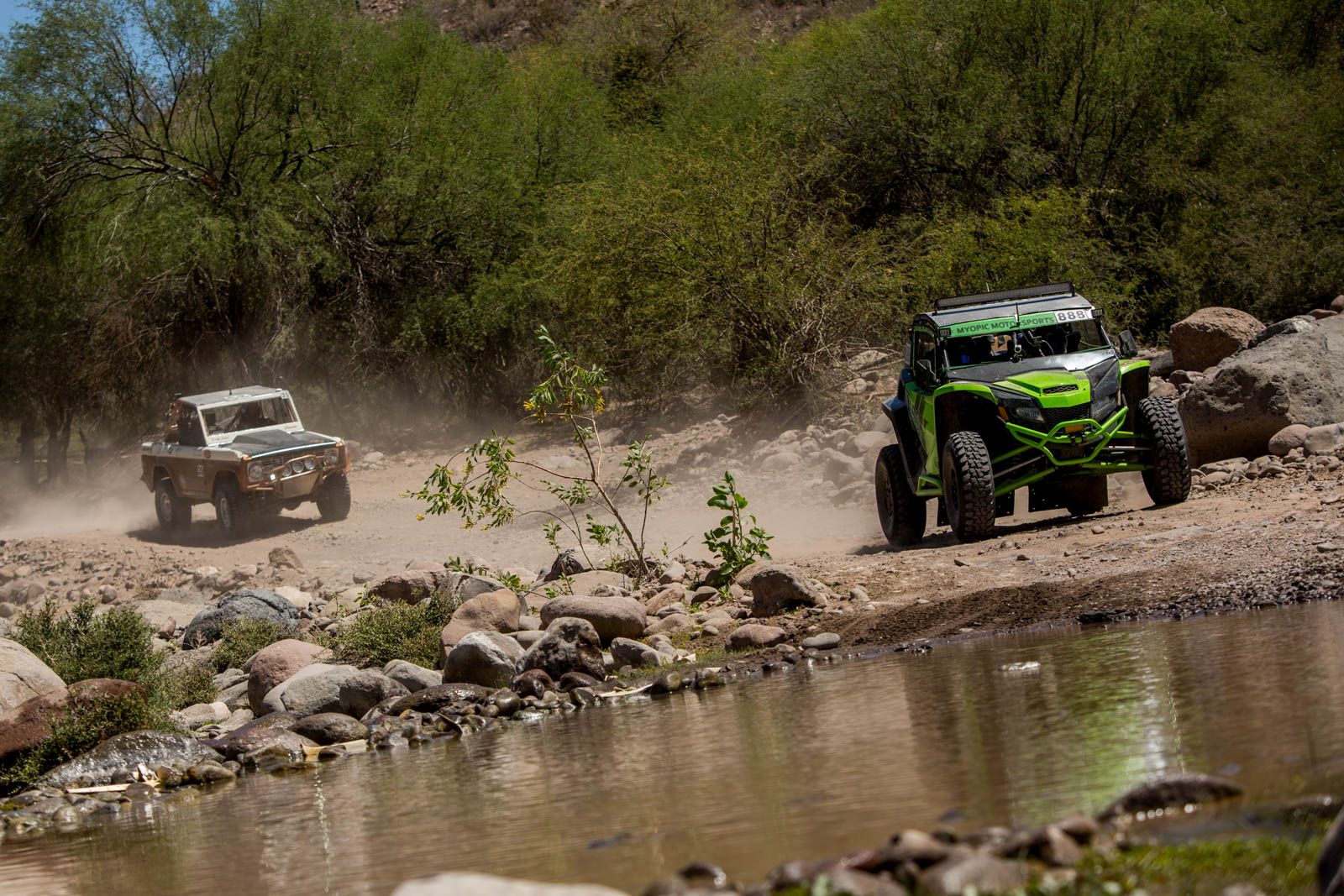 As some of you may have known, I took a year off racing my tbird in the local 24 Hours of Lemons race @ Sears Point to go to Baja. I just got back from racing the 2019 Mexican 1000 in a stock UTV. I figured some of you folks might want to read about our experience; I may repost this in one of the desert racing/wildcat forums but some of them rubbed me the wrong way (esp one which refuses to allow you to discuss any products which aren't forum sponsors or something stupid like that).
We fielded a 2 vehicle team - one green #888 with me and my friend/fellow lemons teammate Brett and one second grey one #228 fielded by Brett's Brother in law Dick and his friends (all seasoned rally drivers from Idaho). If you aren't aware of this race, NORRA was the original sanctioning body for the original 1000mi offroad race through Baja (called the Mexican 1000). After the fuel crisis in 1973, the mexican govt hired a new sanctioning body called SCORE to run the race which they renamed the baja 1000. Whereas the Baja 1000 is a 1K mi start to finish and has become more "race oriented" as the purse size has climbed, the Mexican 1000 was reconstituted 12 years ago by the son of NORRA's founder and breaks up the race along the same/similar trails into 5 days and is mostly run by privateer vs corporate backed efforts. There is no prize money. I originally heard of this race when the lemons team from GoWesty took one of their Vanagons and competed in the Mexican 1000. While I originally toyed with the idea of running a tbird, most unibody vehicles would be garbage after this kind of race and I wasn't quite ready to throw away the tbird just yet. While the motorcycles are on a separate course on some days, everything from Trophy trucks to Buggies to UTVs to stock VW bugs are running at the same time which can make passing (or getting passed) an interesting experience.
Short Summary is that we came in #2 and #3 in our class of 7 vehicles (96th out of an original 185 car/truck/buggy/UTV field of which only 144 eventually made it to the finish in Cabo. 77% completion) AND our UTV beat our teammates despite their years of additional experience. Our 8 or so years of lemons racing have taught Brett and me NOT to push a vehicle to 10/10ths during an endurance race -- and 1250-1300mi race through the desert certainly is a marathon and not a sprint.
The highlight for us was passing all the other stock-class UTVs who ran out of gas on SS1 of Day 2 because the fuel stop was about 30mi farther down the course than was planned, towing our teammates for 10mi (as far as we could until we too started running low), puttering along over a ridge until we made the fuel stop on fumes, and then going ahead to complete the day's 396mi marathon run in a total of 13 hours of driving. At one point in before the evening, we were cruising at WOT on some dry beds near the ocean and you couldn't see a single competitor in front or behind us as far as the horizon could see. That was cool but there was always the realization that at that point, all our chase vehicles were on the highway on the other coast of baja so if something happened to us, we were going to be stuck there overnight (or until the sweep vehicles could come get us).
Day 4 was a 300 mi endurance test which exhausted me after the 396mi the day before and Day 5 nearly did me in. I started the what was supposed to be a reasonable 160mi of racing after being hit by about of food poisoning. I figured i could make it through but after only 20mi, I had to run into the cactus and do my best not to poop my suit (I didn't, thank god). Brett then took over driving earlier than scheduled and carried my stubborn carcass (which had stopped navigating and was at some point a little delirious) the remaining 140mi. Sure, I could have turned over co-driving to my friend Sloan as the backup driver but after 1150mi, there was no way in hell I was going to miss (or have my corpse miss) rolling over the finish line. Oh, we totally blew an axle with 53 mi to the finish line so we just bungeed it in place and drove (or as in my case, dry heaved) the remaining bit in 3WD.
While I have sworn off ceviche and COSTCO mango chicken sausages (one of which did me in but the exhaustion certainly didn't help), our team will campaign again next year (if only for Dick to go bigger and prove that he can beat the "amateurs"). I now know my body's physical limits so we will likely add a few co-drivers and potentially an additional driver along with a few additional vehicular tweaks. Oh, I also lost 10LB between the limited eating and food poisoning (you eat a few hundred calories of protein bards for breakfast, maybe a bar during a transit, but nothing besides water all day until the end where you eat one meal which hopefully won't give you food poisoning). I guess that was good for my health overall since I'm back to just under 160LB.
Observations
* Desert racing is totally white & hispanic and a LOT older than I expected. I think there were only 3 asians (and I have a pic with all three I met) amongst all the competitors & crew and the average age was probably in the 50s-60s. When I brought this up with another team that I had befriended (well, the age part), I learned that this is in large part because desert racing does take a good deal of $$$ -- and most people need to wait until near retirement (or after) to have the money + time to field a team. Luckily for Brett and me, Dick's retired and has the time plus funds to build the infrastructure that we just had to fund/build up a similar vehicle to share things like spare parts & R&D.
* The day before we left Ensenada, a helicopter dropped down onto the small patch of grass next to our team. It was hilarious to watch a few guys walk up to our identically prepped UTVs behind our RV+trailer, look inside, and then exclaim "Why the hell do these guys need a chase copter?". FWIW, it was the medivac 'copter.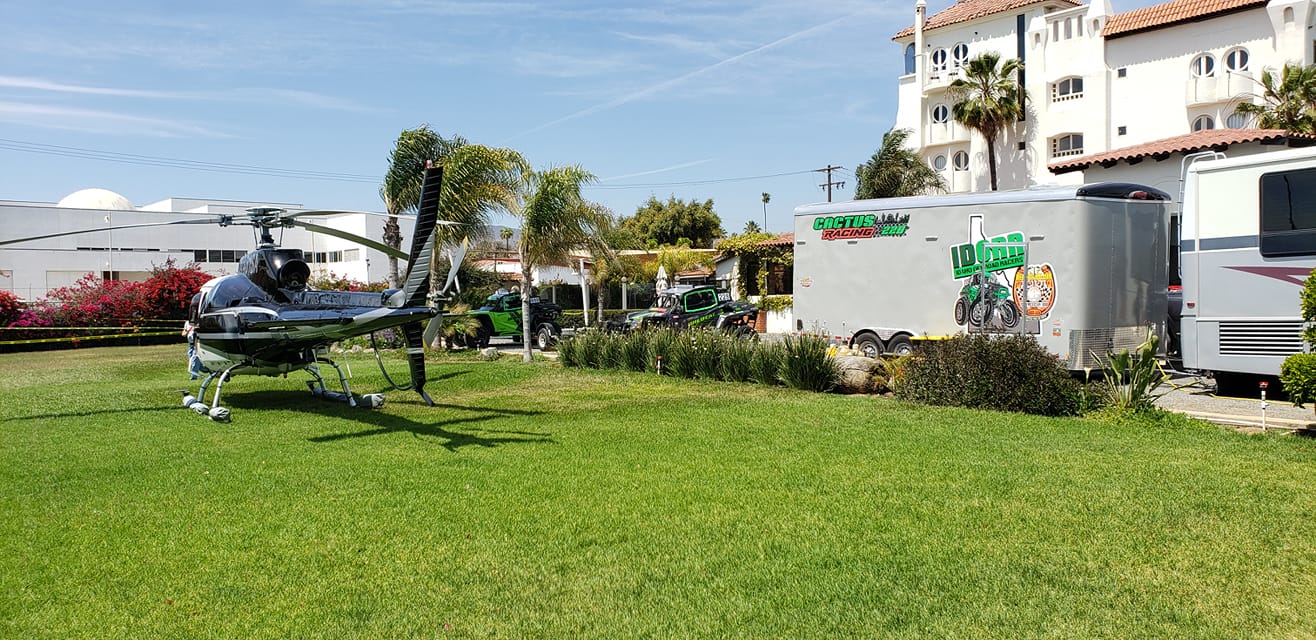 * The terrain in Baja is incredibly diverse and the Mexican 1000 took advantage of all different types of terrain. In addition to the dusty dirt roads where we were limited by visibility vs road conditions, there were rockier roads where going too fast => wheel slip => cut sidewalls, fine silty sections like you see in the movies, beach sections where the whoops (the rolling hills) and our suspension limited our speed, round rocky river washes, full on rock crawling sections where you went slow and picked your path, cactus forests, and even dry lakebeds where you could just put the hammer down until your engine warmed past your comfort zone. Crazy.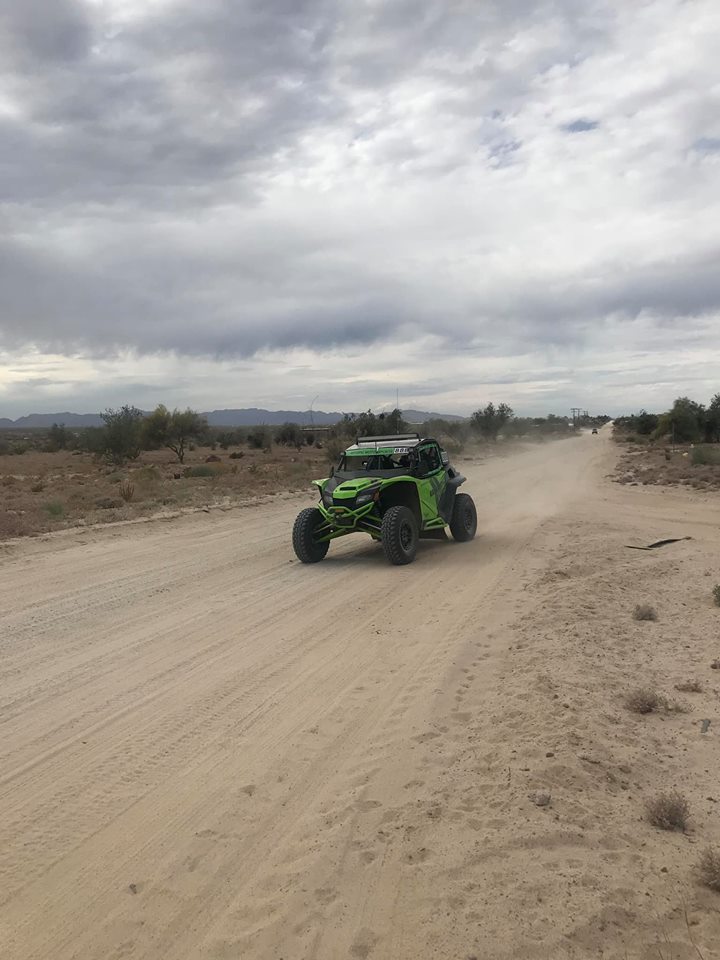 Wildcat XX Lessons Learned
* Despite all the marketing BS, the Wildcat XX is a Baja-race inspired UTV vs a true Baja-race ready vehicle. We probably spent another $12K or so getting the Wildcat XX truly race ready -- some of which went into things like respringing the vehicle to account for the added weight of a proper aluminum skidplate and 32" spare tire.
* DESIGN FLAW: IMO, our biggest drawback design wise is that the vehicle is speed limited by its CVT belt AND and engine cooling system. On the first day, we were speed limited to about 35MPH sustained or our CVT belt (basically the weak link in our transmission) would heat up beyond the safe temp of ~205F and start getting melty. When it melts, it all goes to hell. The vaunted RG told us to "lose" the cover but this was kind of like dirt biking in a kilt and w/o any boxers. Not only does sand get up in all the juicy bits but one bad rock could have ruined our day. Forced belt cooling (Robbie's new solution is a SPAL fan on the housing and others sell bilge fans that you plumb into the stock ducting) would put you in modified class (confirmed before race). I suspect the Polaris Turbo vehicles weren't as susceptible to this issue b/c their CVT belts are like 50% wider than the NA UTVs. In comparison, the Yamaha YXZ uses the same engine but a real 5speed gearbox good for 100MPH (and from the #1 guy, about 85MPH sustained). We could only hit 78MPH on the flat dry lakebeds but after a few mi, the engine temps would creep up (insufficient cooling) so we needed to back off. Our teammates, since they were totally about "going for broken", just ran it until it would beep and threaten (or go into) limp mode. Moving the radiator from the front to above the engine behind the passenger compartment WOULD solve the cooling issue but we'd then DEFINITELY be bumped into Modified Class (confirmed).
* DESIGN FLAW: The XX is on its 3rd axle revision (based on our spares) and they STILL haven't fixed the issue. RG is apparently working on rev #4 but the gist is that under max suspension drop, something inside the axle (probably the CV joint) articulated just enough to always rip the boot at the 2nd rib. The grease then sprays out and the axle blows up. Over 5 days, we killed 3 spares (inc 2-3 we patched well enough to last a 2nd day), 4 more OEM axles (we started with rev #2 or rev #3 axles on both vehicles). #888 at least tried to modulate the # of axles we killed by slowwing down for the "whoops" but sometimes you can't miss them all and there goes an axle. Besides the cost, adding an axle swap or two to the nightly TODO list is exhausting. We came well prepared but we didn't have any professional mechanics who didn't also race during the day (aka a dedicated "fix my vehicle while I eat this taco" guy). I personally think its a little telling when RG doesn't finish the race with his XX (or the spare one he brought).
- Besides bitching at Textron about the axle defects, the two potential solutions are either a) limiting straps to prevent the suspension from hitting full drop b) moving the boots "up" and out of the existing retaining groove to give them more flex where needed, or c) both. I'm checking now to see if limiting straps would knock us into MODIFIED Class.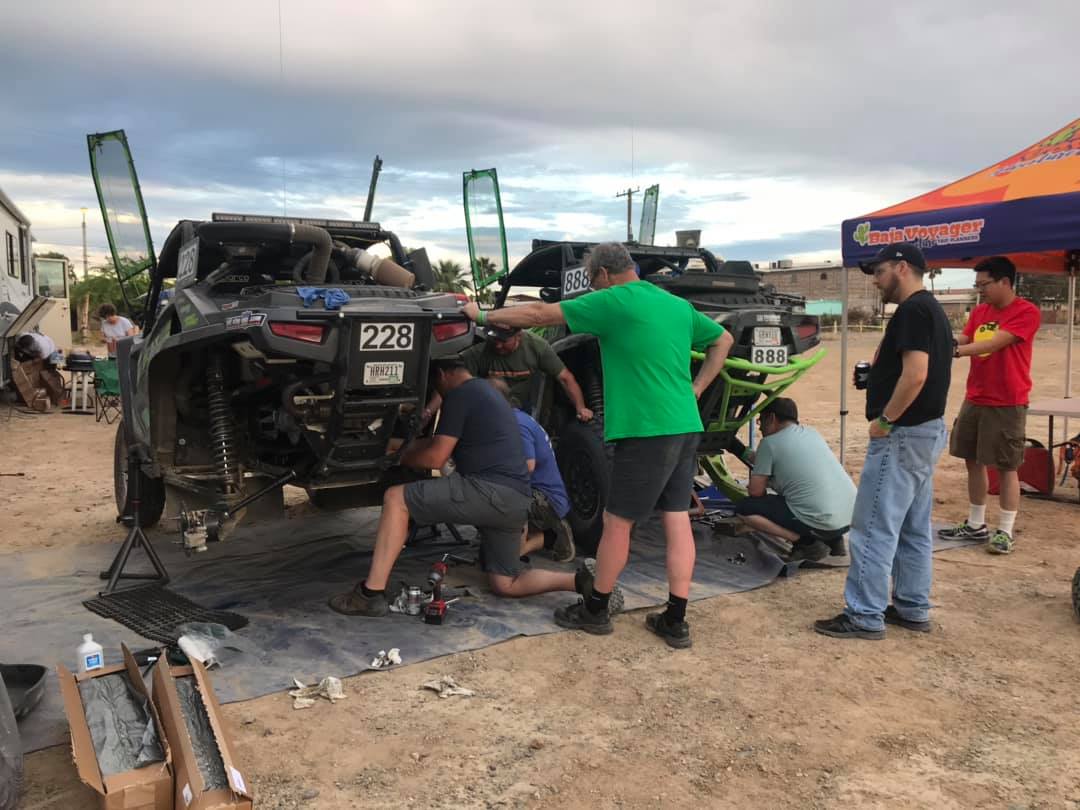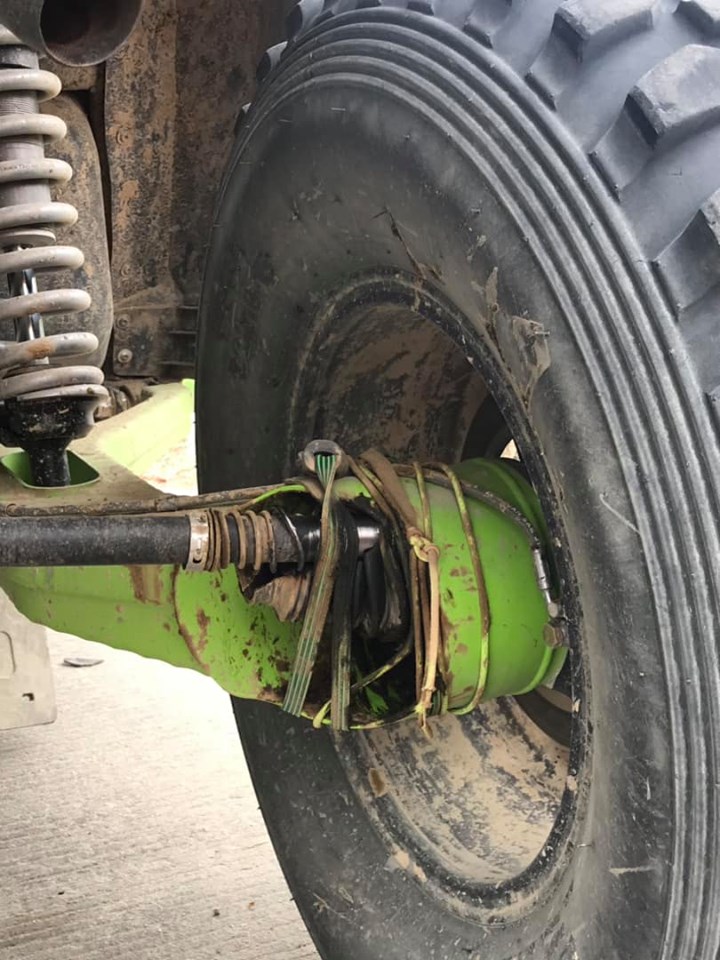 * MINOR DESIGN FLAW: If the CVT belt housing was a 1/4" longer, CVT belt changes could be done in 2 min. As it stands now, it takes 2x longer there is just 1/4" too little room between the driven clutch and the belt assembly housing that you need to pry at the plastic in order to get the belt off the clutches.
* RACE INSPIRED vs. RACE READY: in hindsight, I might have picked a Yamaha YXZ if I had to start from scratch again. You already need to buy aftermarket springs to account for the heavier vehicle and likely revalve the stock shocks as well (#228 did that and seemed to be able to go over bumpier terrain faster/in-more-comfort whereas our #888 just had to leave everything in FULL STIFF mode and suck i tup.
Other Observations
* LeadNav (IOS only app) is THE best choice for navigation simply because the app talk to the driver and alert him of all the NORRA supplied hazards once you have it wired into your (overpriced) comms system. The co-driver can then be freed up to watch the vehicle sensors (belt & engine temps) and for other hazards (like the shady folks who tried to booby trap us with a fence pole and barb wire on one hill), and study LeadNav + Lowrance GPS to tell the driver which way the road looks like it will be bending (it's not always obvious) and to be on the alert for "push to pass" requets.
* A $250 Lowrance fish finder is just as good as the baja rated Lowrance Elite-7 GPS. They both have archaic interfaces but they work well enough following the trail that there's no reason to get the fancier one that costs 3x more.
* You NEED some form of satellite comms to talk between the chase and the race vehicles. Our 60W radios only worked over one ridgeline. We ended up renting some Iridium sat phones at a stupid price (5 phones @ 2 weeks = $1300 with insurance) but we might have been decently served by a cheaper and simpler text-based system (maybe Garmin Inreach Mini). I suspect we'll look at those devices next. BTW, NORRA already uses the STELLA 3 system for vehicle tracking/comms so you will already be able to call for SOS if medivac is necessary, you can signal to slower vehicles in front that you want to pass, you can signal for mechanical issues to alert other competitors, AND your friends/family can follow your progress online. What you cannot do with Stella is call your mothership for gas.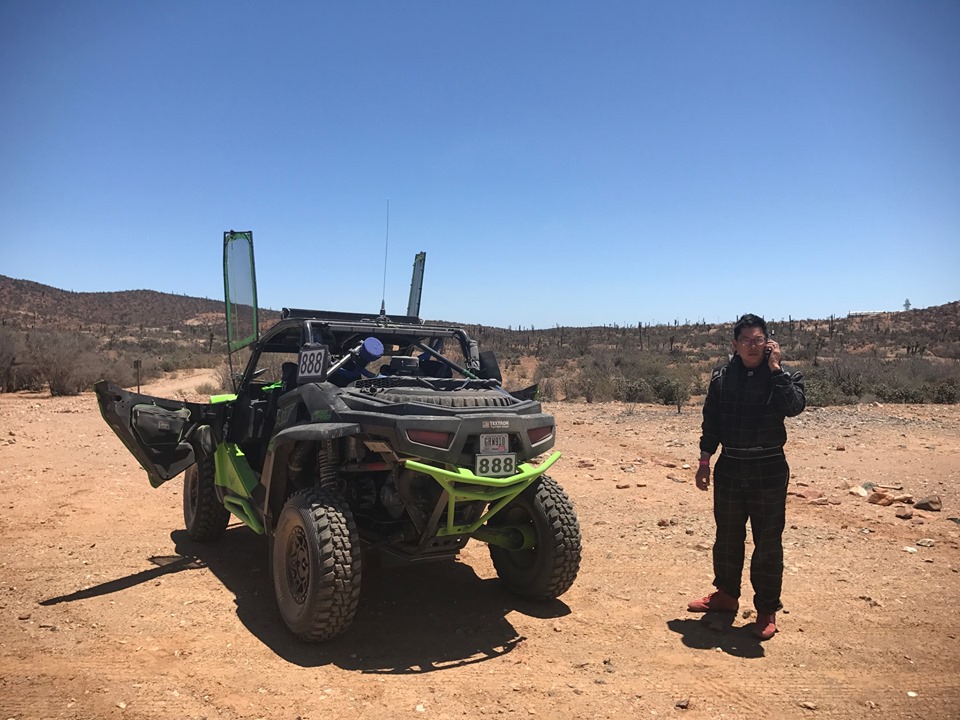 * We need to fabricate an axle stub and pack an impact gun to make axles changes in the desert quicker. When our axle broke in the field on day 5, we could have just knocked the broken axle off the UTV, swapped in the plug so the diff wouldn't bleed its guts out, and gone faster in 3WD. As it stood, we needed to go slower to prevent the axle from coming apart more and maybe nicking something more important (like the right rear brake line for example).
* We need to add more padding to our Bimarco Grip Halo seats. There were a few times our heads bounced against the lateral halo arms (which tells you that we needed them) and I always felt safe in them BUT after 6+ hrs in the seat, you start to feel the thinness of the padding. Or at least, my boney butt did (Brett not so much). Suspension seats would likely be more comfortable but more padding should hopefully solve this issue (there's enough headroom).
I'll post some videos once we have the vids compiled; we had a few 360 cams and dashcams on the UTV but the best video by far came from my friends new GP7 in hypersmooth mode. The video reminded me of the old SW Pod Racer game b/c you could see the vehicle moving up and down all crazy while the UTV just flowed through all sorts of amazing looking terrain).