Discussion Starter
•
#1
•
All:
Since two of my regular teammates couldn't make it this year and I knew MadMikeyL expressed interest in trying out a race on the west coast, I invited him to join us this past weekend. Racing Sears Point/Sonoma Raceway was a first for MadMikeyL and for my buddy Brett and I it was a first to have a "real mechanic" on the team. He returned my tbird in the same condition we gave it to him 2 out of 4 times he took it out... which is only half bad
Prep this time around was pretty simple: the suspension was already pretty well sorted and tested last year @ Laguna Seca, we decided to try Mike's recommended 17" Nitto NT05 tires, and I had opted to upgrade the brakes to 13" rotors/Cobra calipers.
My buddy Brett handled the theme this time and built us a pretty decent UFO; our chicken from our previous themes rode in it and provided continuity. The UFO also served as a base for my 360cam so I will post from videos later.
The pièce de résistance was in my engine mod that added 50Lbs and absolutely ZERO HP. Even before the Lemons Engine Heat BBQ cooking contest was announced, I was already planning to make fritos/cheetos using my tbird. More below.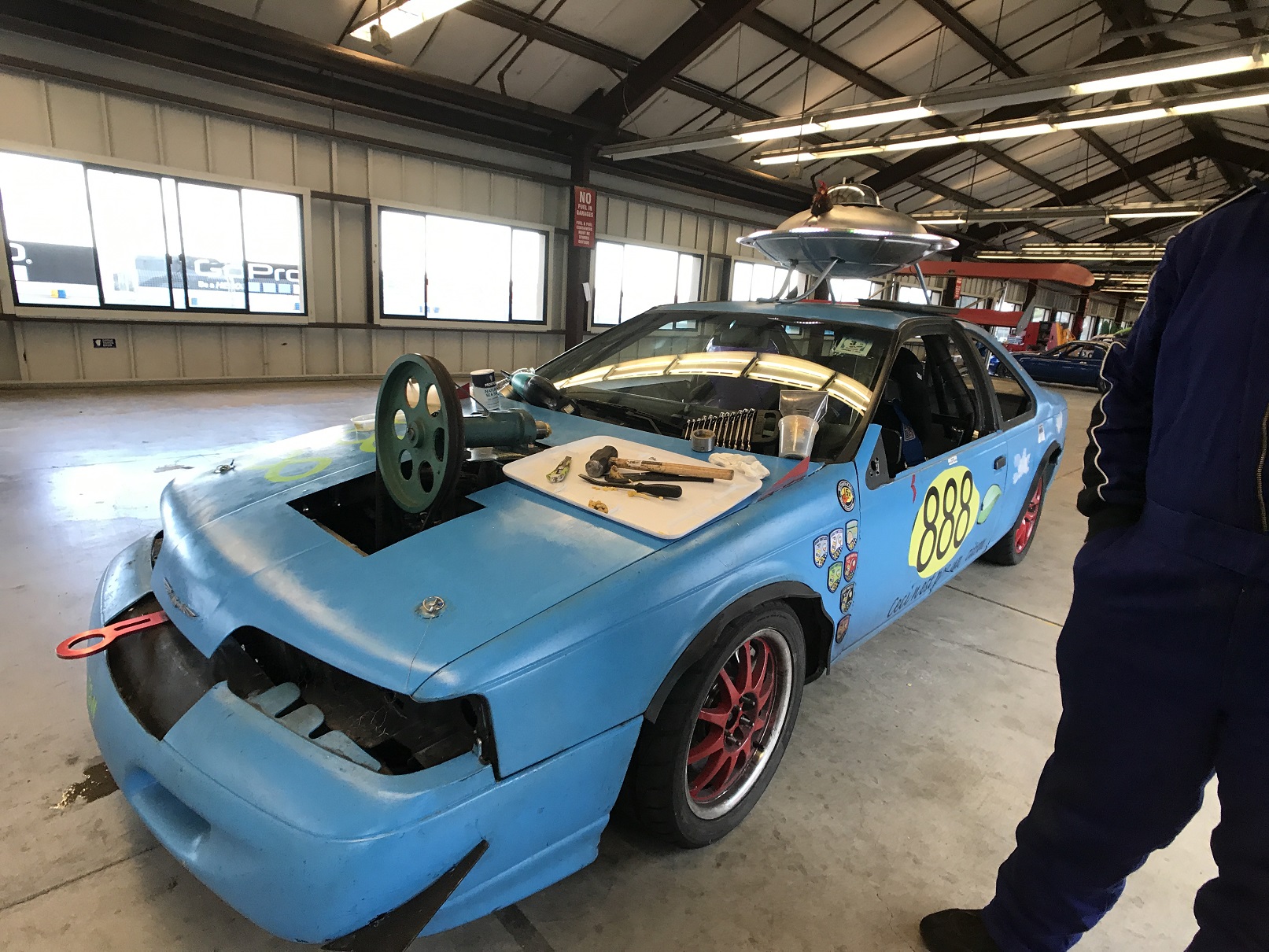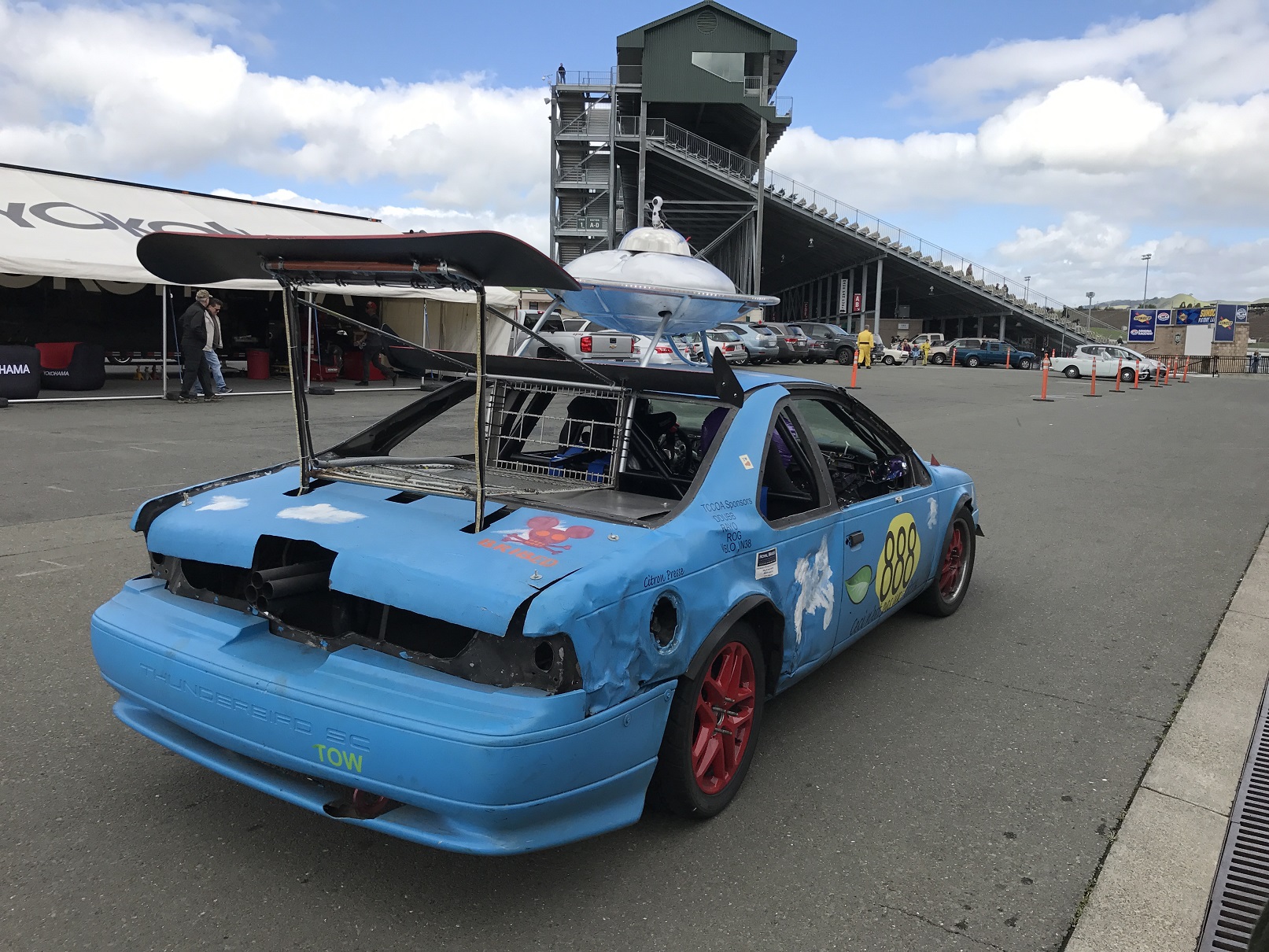 Lessons Learned
Day 1
* severe warpage on one new cobra rotor. Replaced both front rotors and went back out.
* BIGGEST ISSUE: Pack spare rocker arms, pushrods, and hydraulic lifters. We punched a pushrod through a lifter. Mike brought the car back with a weird backfire sound that came from the intake. After pulling the valve covers, we saw this carnage and had to replace all three. This neccessitated some scrounging from other teams AND a trip back to my home garage in SF. While we lost 4 hours of track time, we made it back just in time to put the engine together (again, having Mike prepare the parts/tools in the exact reinstallation order helped) fast enough to cook the judges some fritos at 6PM. It was on the #4 Cyl exhaust valve which explains the backfire. Either the lifter failed and punched the pushrod through the rocker OR the rocker failed and caused the lifter to fail in turn. Either way, carnage.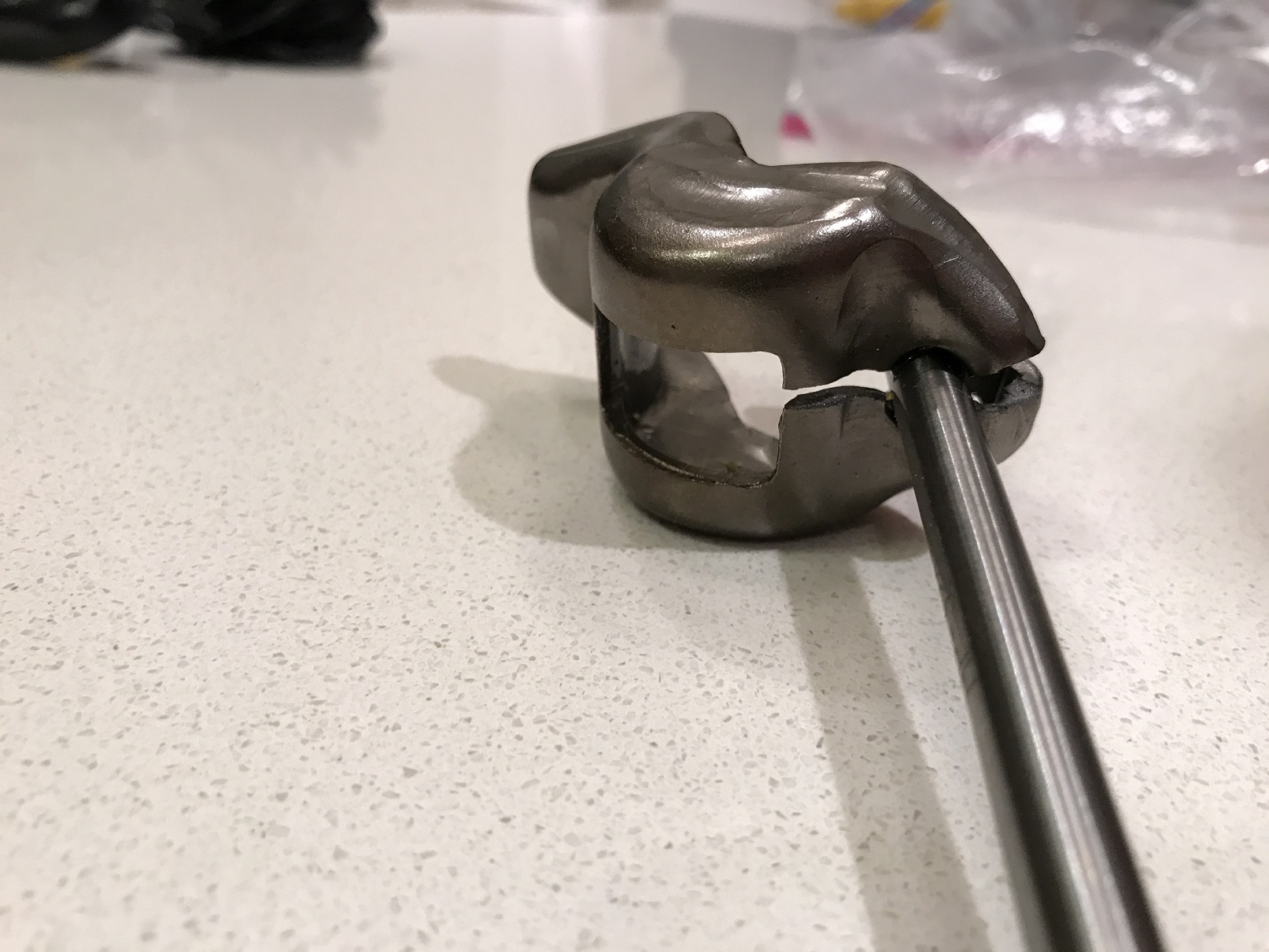 Day 2
* Make sure to tighten ALL the rocker arms. Loose rocker caused same noise as with Day 1 but slightly different screw-up. No damage to bottom end though.
* Mike cooked our brake fluids. Solution is to upgrade from ATE Super Blue/TYP200 to Motul RBF600... and maybe add ducts.
* Nittos were amazing when dry but a little squirrelly when wet. I'm a little worried about turn-in (or lack there-of). This may be just that I need to adapt my driving style more to the tires but there were several times when I had to late brake because I didnt' feel the car turning when expected. Generally pretty reliable when we exceeded traction though (unlike the BFG Rivals which felt all over the place).
Bottom line: It's hard to make up for 4 hours of lost track time even though our car is apparently capable of doing pretty well if we keep it running reliably. Our best lap times was 2:04 (8 sec or so better than last years' best lap time) compared to the winners who were lapping at 2:00. Mike was good for a consistent 2:08 and I could
All three of us are clean drivers
Most Glorious Engine Mod Ever
I watched a video on Youtube last year on how cheetos were made and thought to myself -- I bet I could build this onto my tbird. My engineering professors would have been so proud that I'm putting my degree to use.
While another team DID make a 3 course meal using sous vide using their car and walked away with a Richard Simmons cookbook, we came away with 4 "Black Flag Pardons". I think we got a better deal.
I'm not sure how I'll top this but I have 2 years to come up with something; I plan to take a small hiatus from lemons racing to do the Mexican 1000 next year.
-g