Discussion Starter
·
#1
·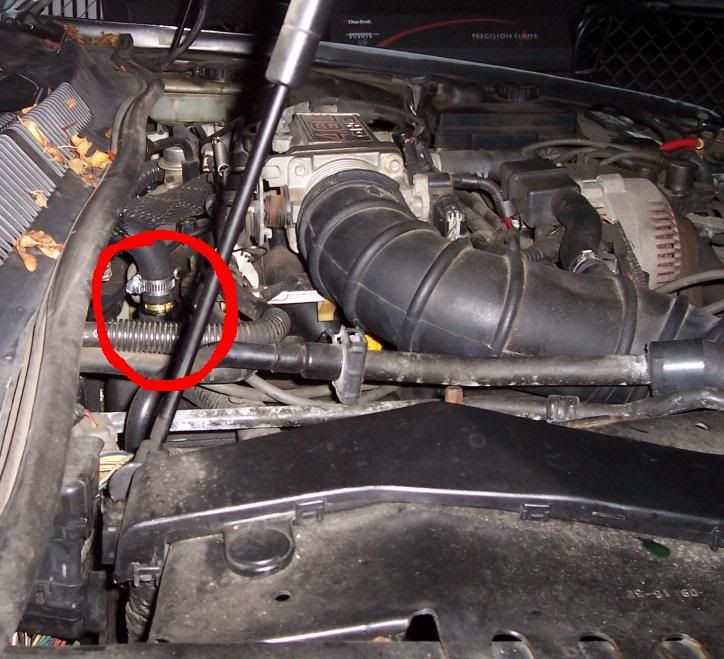 Alright heres the story. I started up my car one day to go to my girlfriends house, about half way there i noticed steam coming out from under my hood so i decided to turn around and go home.
When i got home i notced the car was missing like a bastered and steam was coming from the circled part in my picture, so i let the car cool down then i went back out for a more in-depth look. I pretty much just put my hand on the coolant line that ran to the intake and the line AND the stem that goes to the intake popped right out. All the spark plug holes were filled with antifreeze.
Next day i decided to clean up the stem and get a new o-ring because the old one was pretty trashed. well i went to about 5 different harware stores and none of them had a match for the o-ring that was on the stem (they were all too thick). But i used one of them anyway. when i was screwing the stem back down to the intake(with my hand) i noticed it was vary hard to catch thread because of the thicker gasket. but i finally got everything good and put everything back on.
Take off mile down the road i see steam, pull over, the spark plug wire closest is drenched in antifreeze. and the stem is out of the intake
So i decide to use the old o-ring this time, but i get the sameeeee problem yet aginnn. but only thing is it doesn't seem like any antifreeze is leaking from the stem(but i could b wrong), and i don't know where else it would come from.
And i have been driving back and forth to highschool like this for about a month, When it first starts up it drives BEAUTIFULY but then slowly starts the missing to were it gets really bad.
I was wondering a couple things, could i order a new replacement steam w/o-ring? AND what IS the proper way to tightin down the steam to the intake??
any thoughts would be deeply appreciated. THANK YOU