Discussion Starter
•
#1
•
Last night my 2 amplifiers started cutting out and voltage dipping so I figured I had a short in the remote wire or the power cable going to the trunk. I was sent home early from work so I figured I'd try to figure out a solution before I go to my other job delivering pizzas. After ruling out the remote wire my day went from bad to worse. First my new tube of solder rolled into the engine bay and wound up somewhere below the driver's side headlight where I cannot reach no matter how much I tried.
Other than reaching around the header panel all I did was remove the fuse for the power cable to the trunk. I decided to go to the store and buy some more solder but lo and behold the car wouldn't start. Nothing happens when I turn the key aside from the voltage dropping as the starter receives power. This is a brand new starter so I'm not sure how this could be happening. I checked and rechecked every fuse and the Crank Position Sensor pigtail that likes to slide off but nothing was amiss.
I did try using another vehicle to jump start the car but the starter won't turn. Maybe later I'll smack the starter with a hammer while someone turns the key but I don't see why a new starter would behave that way. I even had trouble trying to upload this pic that'll give some of an idea of what I was working on.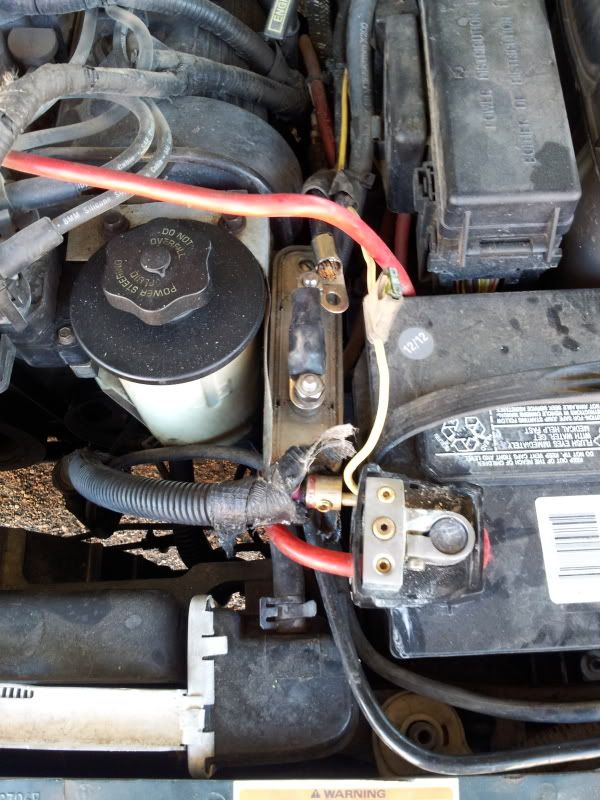 I may have to forget about going to work tonight but if I don't figure out something tonight I'll be forced to have a shop take a look at it. I cannot afford to lose hours or worse quit my 2nd job. It's quite amazing how bad my luck truly is. I'd be ever grateful if someone has any idea what I could have done that made the car no longer start. I did clean all the connections but that didn't make a change.