Discussion Starter
•
#1
•
May I present our Latest Theme: The Ford Rapture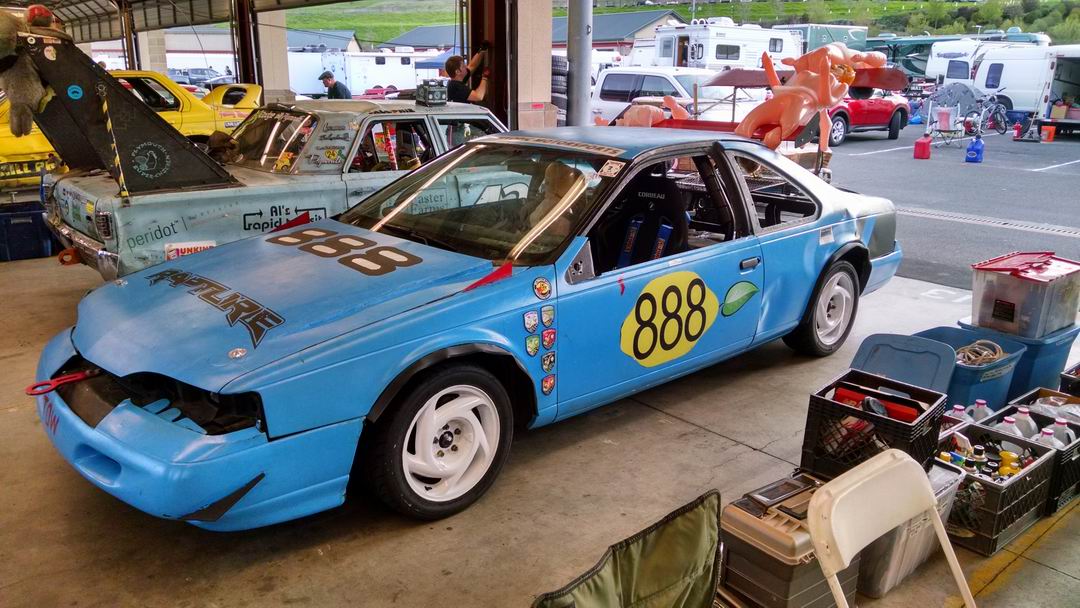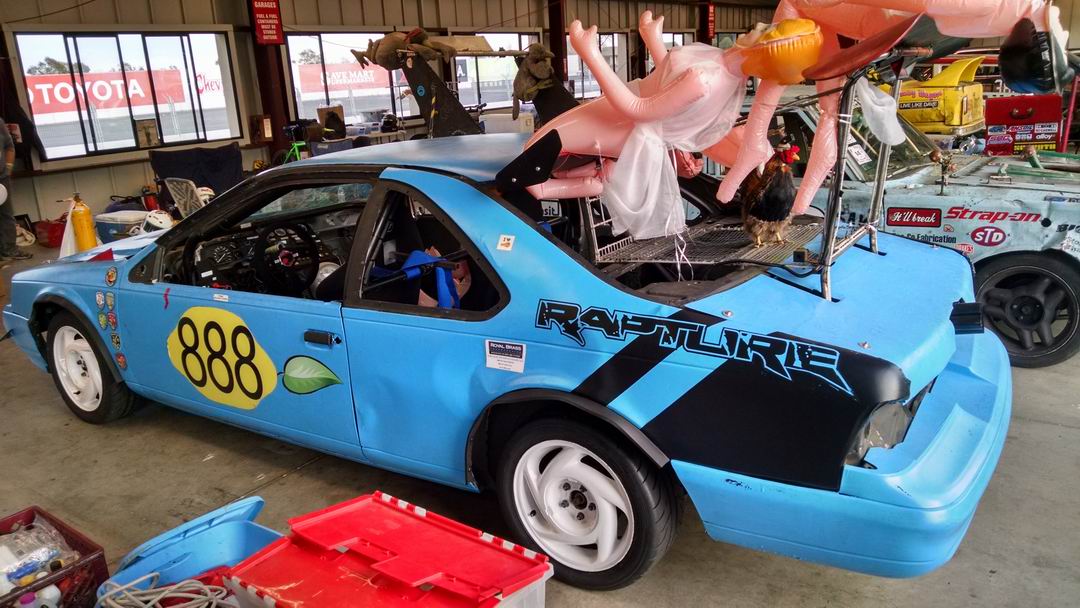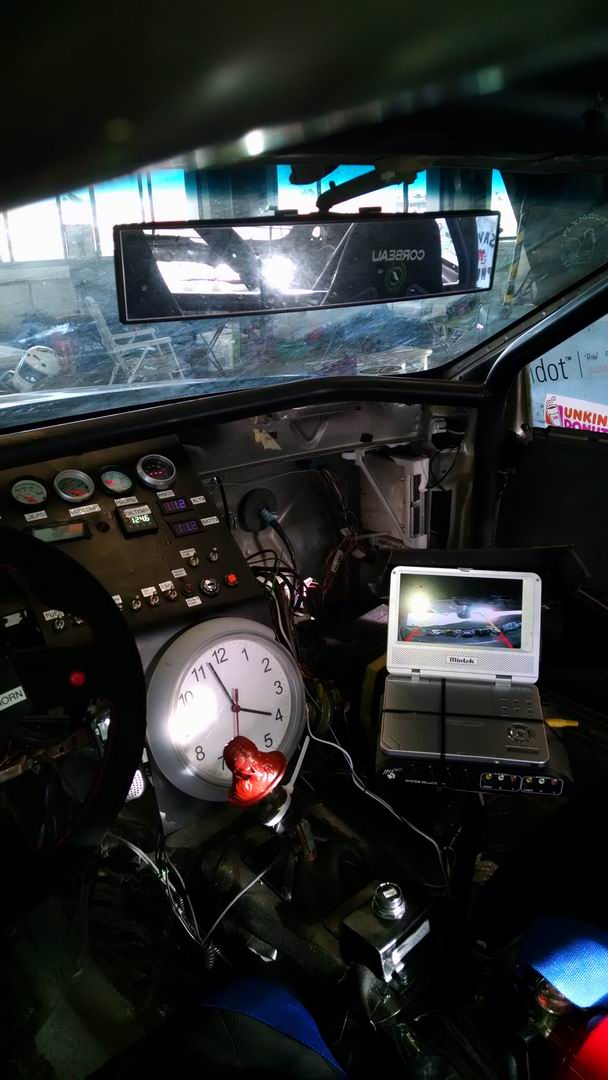 I first thought of this idea after seeing this clip from Six Feet Under:
The plan was to dress in a banded collar suit that looks like a priest's garb, have my teammates dressed in choral outfits, and have four "adult novelty dolls" floating above my car filled with helium. I had a bust of Jesus 3D printed up as our shift knob. Oh, the chicken that was hanging out in our car is now sporting a halo.
The only problem with my plan was that apparently, dolls designed for adult companionship (vs floating like balloons) wont' float even with a bunch of balloons tied to them. Or, my helium was defective. We then strapped a few onto the wing of the car, strapped on in a as a co-driver, and strapped one to our rented trailer so noone else would run off with it (150 cars = lots of uhaul trailers = I don't want to deal with having to track down mine).
Race Results
The good news is that for the first time in 3 years/3 races, we managed to finish the race with the same engine in the car that we started with.
The bad news is that thanks to some inept driving with too much car (Pontiac Solstice and noob drivers) running into the rear end of our car within the last 30 min of racing on day 1.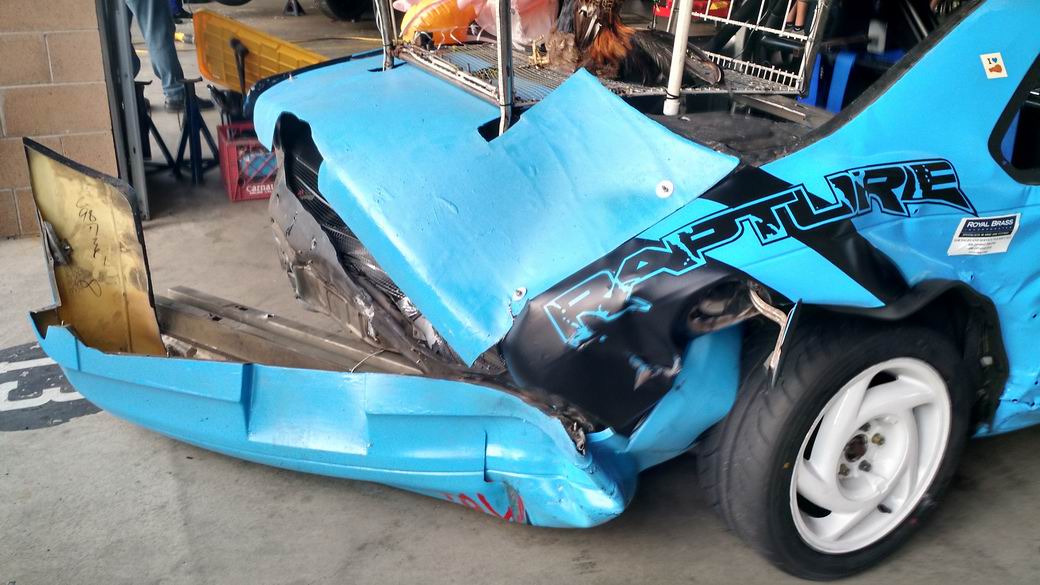 Thanks to the other tbird team (who campaign a SC), their structural engr head helped us tie our tbird to the garage (he assured us it wouldn't fall on our heads) and his teammates F350 and we actually stretched the car back out well enough to race on day 2. We also had to fix up our exhaust because my Pagani Zonda homage was bent inwards.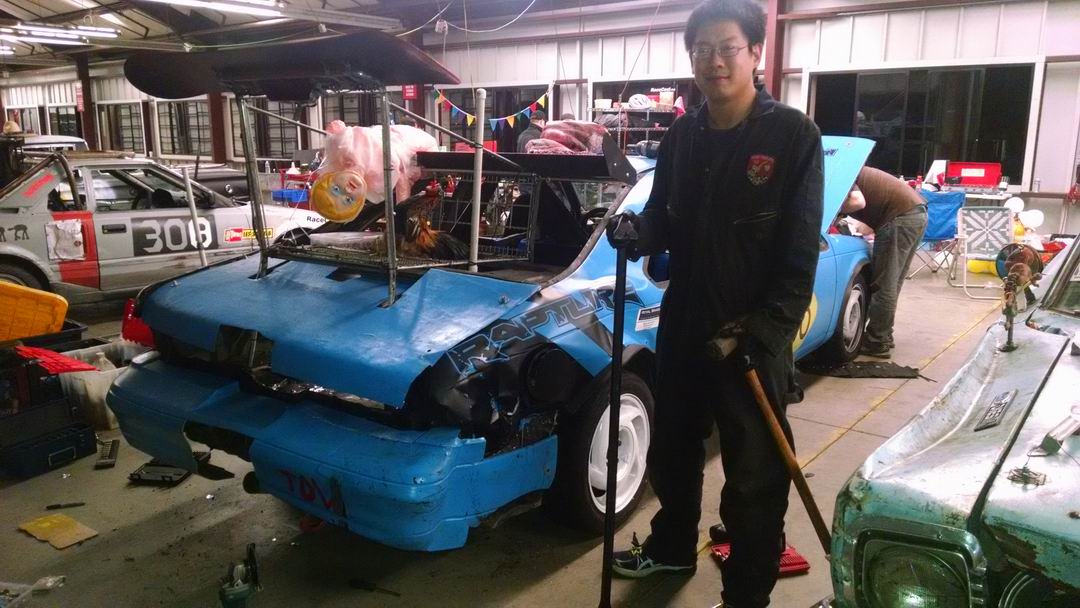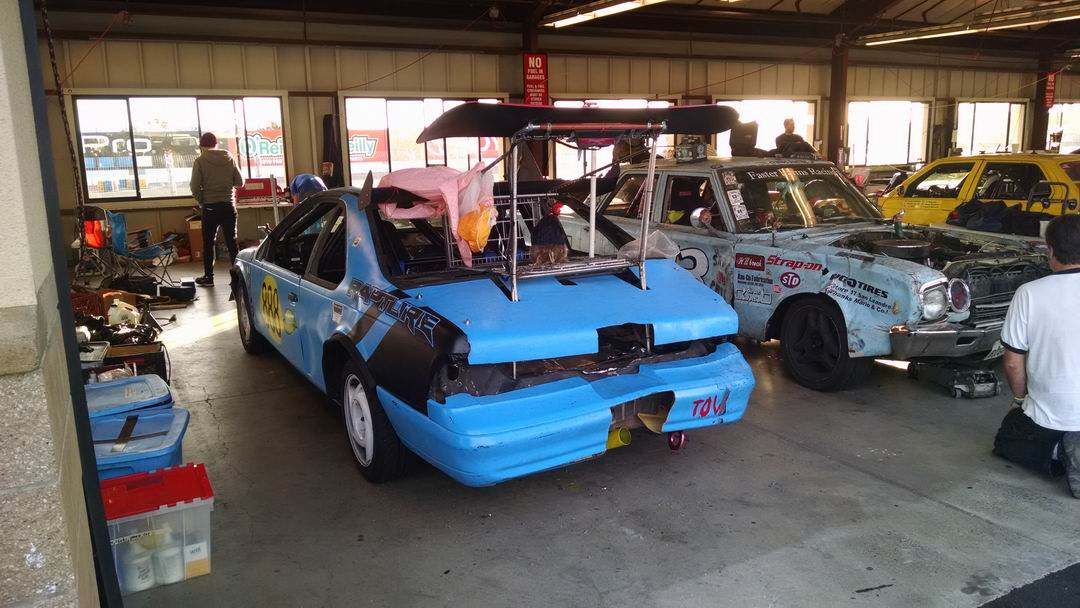 We then fixed/mitigated some teething issues regarding hot-starter issues (we just hooked up an external 200A car starter or pushed start the car as needed), running a little hot (fixed with a second fan I had already pre-wired in and fabricated brackets for plus opening up the nose a bit more by cutting into the plastic header panel), and some small oil leaks on my oilcooler/accusump setup (fixed and discussed below), but overall, except for the stupid, this was a good race.
We finished the race 94 out of 147. This was not as good as our first two races with our anemic 140HP V6 but hey, this car is a LOT more fun now since we are faster than the avg car on the track. I anticipate that if our team does its part as drivers and we can race flag to flag for our next race, our best lap time (2:11 compared to 1:57 for the race winner and 2:00-2:04 for the top 10 cars) should allow us to place in the 40s.
For reference, our car did 206 laps or 545.9 very hard miles on track over the course of the weekend. The race winner did 335 (887.5mi).
Lessons Learned
- I didn't know I needed but really want a Ford F350 Cabelas edition now. That truck was amazing. Of course, I don't have any place to put it here in SF. I still want it though.
- I also didn't know I needed a 4' crowbar to pry all sorts of stuff on my car. I can solve this one on my next Harbor Freight trip.
- If you are going to get custom oil cooler hoses made, get them made with spinny compression AN fittings on BOTH ends (vs an AN fitting on one end and a 1/2" NPT hose on the other. This way, you don't have to spin around the entire hose to tighten the 1/2" NPT end (or risk it leaking at the crimp). We ended up with a leaky hose that luckily I could replace by removing my accusump and just running the racecar on day 2 with the oil cooler.
- It pays to be prepared: since I was already worried about our unproven upgraded oil/water cooling setup, I had a second SPAL puller fan ready to install to complement our pusher fan. This allowed us to pit and install a second fan in 15 minutes (swapping starters to try and solve the heat soak issue took another 30).
Luckily, after opening up the nose a bit more and fully exposing the oil cooler and radiator to more direct air, the water temps never climbed beyond 210F and even while going flat out our oil temp (measured in the pan) never climbed beyond 245F. I understand thats at the high end of acceptable but should be OK considering we never run more than a weekend on the same oil (7.7qt capacity now w/ 6.7qts Castrol 20W-50 and 1qt lucas).
- Finally, Helium isn't enough to lift up eBay inflatable dolls unless they were designed as balloons (vs say, companionship).
TO DO BEFORE MY NEXT RACE
- Get my tbird to a frame straightener to get my rear crumple zone back. Reattach my bumper. Get a new bumper cover from Dan/Junkyard.
- Buy some replacement oil cooler hoses
- Fix our hot starter issue.
- Fix my exhaust (either single out the rear or repair the pagani zonda homage and extend the tips farther our behind the car).
Optional (but a good idea):
- Figure out why the car is surgy at partial throttle (pain to drive in the pits but just fine at WOT on the track).
- Get my QH tuning working again (we ended up just using the stock ECU vs trying to diagnose why it was running rough).
- Re-theme the car (sadly, the rapture logos are a bit torn up). We are keeping this color though.