ARP
The Theme - Ceci N'est Pas Un Citron (This is not a Lemon)
This year's theme was an homage to Rene Magritte (everyone's third favorite surrealist). Why third favorite? Can you name any other surrealist after Dali and Picasso? I can't. I'll post a link to more of the "official" lemons results/pics.
For this theme (and clearly not our driving), we WON a trophy for "Organizer's Choice."
Highlights Included:
* Team dressed up in suits with red ties and green apples in front of their face -- homage to "Son of Man"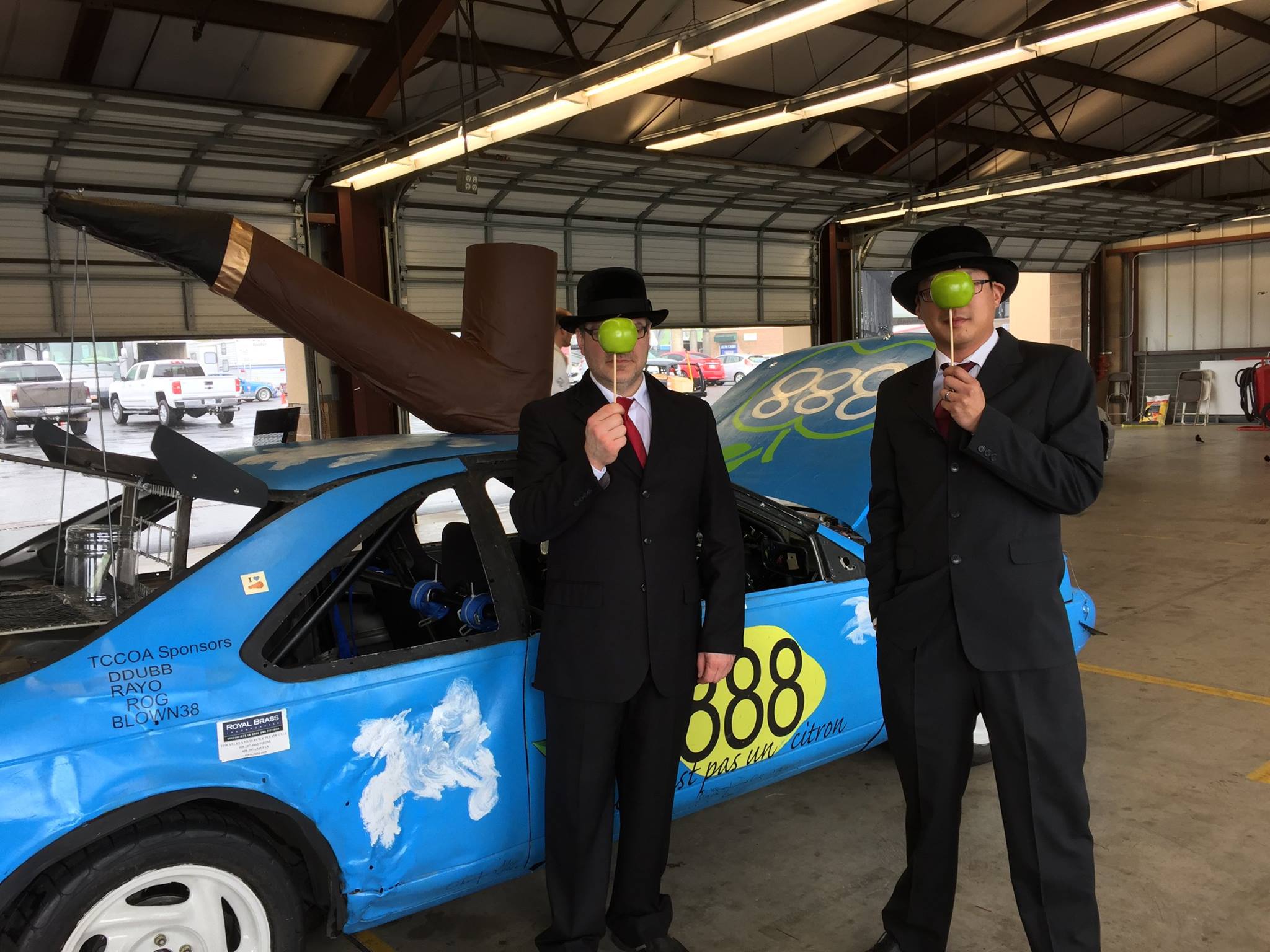 * Giant green apple on hood made out of carbon fiber applique (so it looks racecar-y) - LOST during tow to track through the rain
* Giant pipe on top of the tbird's roof -- homage to "The Treachery of Images"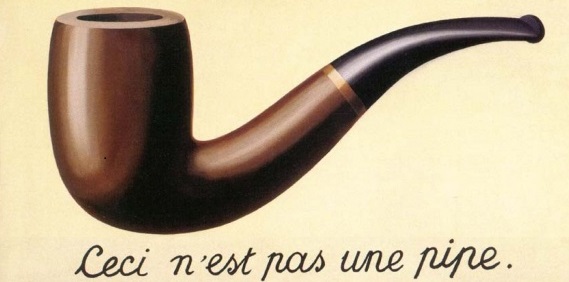 * "Ceci n'est Poulet Entier" [This is a Whole Chicken]. A framed picture of the chicken under a plastic cover (homage to "This is a Piece of Cheese" and our previous racecar themes that involved a chicken wearing a camera -
https://www.24hoursoflemons.com/blog/73-hella-sweet-lemons-car-of-the-week-bosozoku-texino-egg-laying-machino
* Museum labels everywhere
* Green apple shifter (not for racing)
* Citron Presse (Lemon juice) label for the
* Porsche Carerra Script under the doors "Ceci N'est Pas un Citron"
* Citroen Badge on the hood. Did you know that Andre Citroen came from a produce company and took his name for the dutch word for Lemon? I didnt.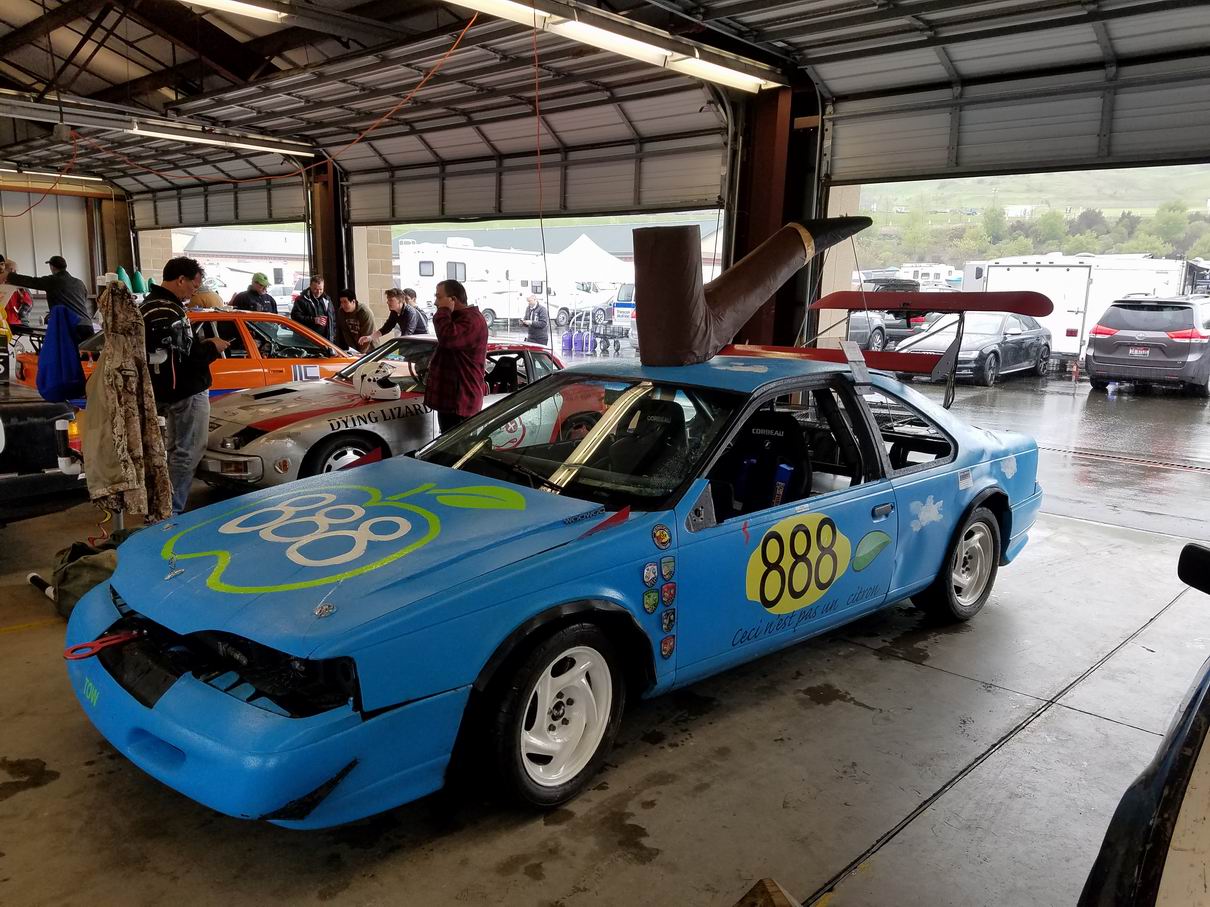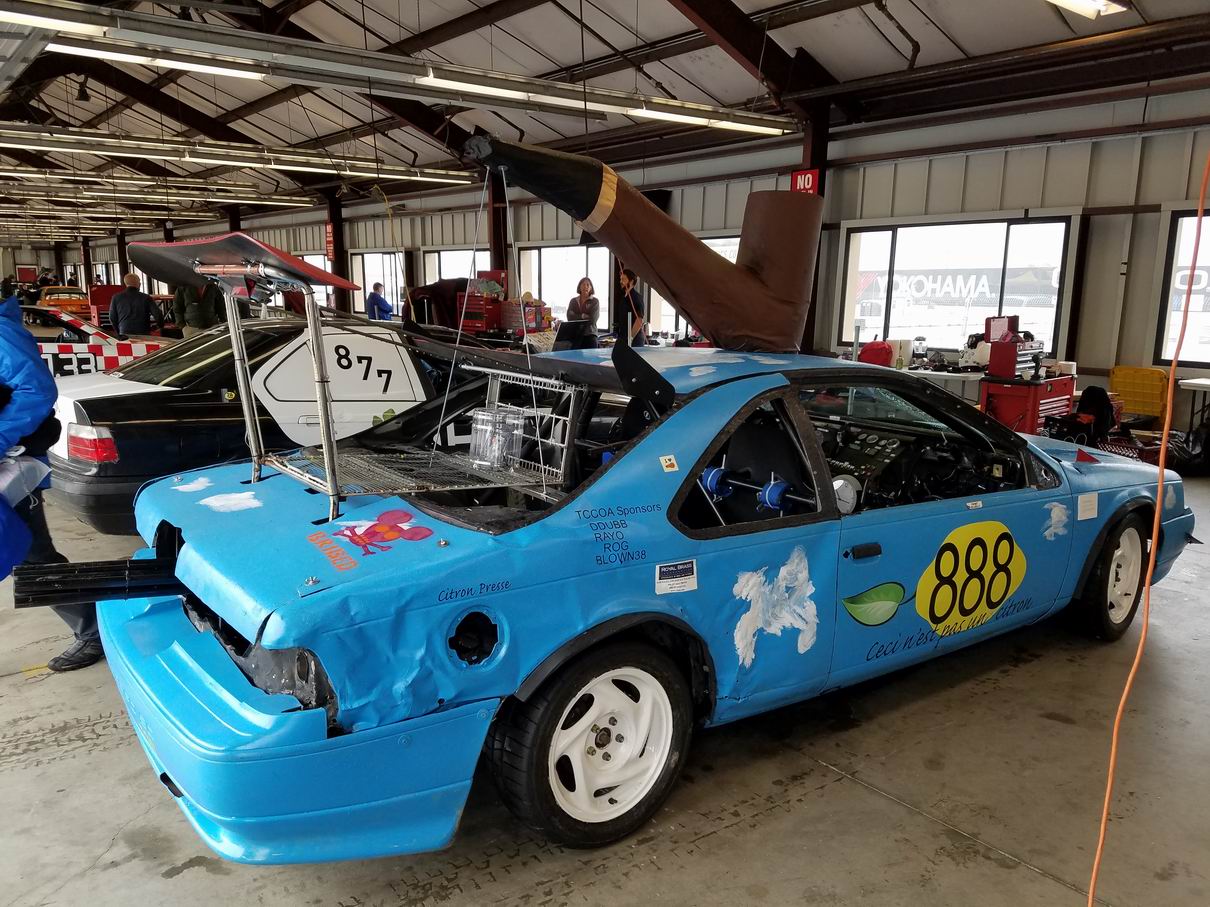 The Car
With a V8 that actually runs well now (new SS valves), the car is much faster than when we started 7 years(!) ago. The trick suspension also really makes the car handle but probably contributed to some of our racing incidents.
PRE-RACE: I finally figured out the bucking/surging issue we experienced in the pits -- it's the MAF!. Since I live in SF and I cannot take the car around the block, the first laps of every race have pretty much been a shakedown as I cannot test my car before the flag drops. We swapped the MAF to our backup and the issue mostly went away! Time for a new spare MAF (I have already cleaned the old one so it's probably EOL).
Engine: It took my 3.5 attempts to build a proper V8 w/ a matching cooling system and it finally looks like I succeeded. While we finished our last race with the same engine that we started with, we noticed that the engine was producing low vacuum a month before this year's race so I pulled the heads, confirmed that multiple intake valves were leaky, and had SS valves installed. While this was painful to spend this much on GT40 heads worth ~$300, the result was a glorious sounding engine that never went over 240F oil (at pan) and 184F coolant (at the radiator output). The engine sounds glorious which pulls hard from 3K-5.5K RPM and even under full load (which was hard this weekend because of the slippery track), we didn't want any more power. If anything, we could have done with less in a more efficient pkg. I already told my teammate though that there's no way in hell I'm going to go BACK to a V6 after having done this much work.
- Side Note: since we didn't have much to do at the race on Sat night, my teammate and I helped another fellow tbird racer do a quick and dirty HG swap (which in the end didn't help b/c the heads are likely cracked). While there's so much room around the 3.8SC in the tbird engine bay, there's also so much crap on that engine to take on/off that the swap took 3ppl with tbird experience 5+ hours to do. An engine swap might have been quicker but there's still a ton on that engine compared to the 302/5.0. For this application (endurance racing), I'm not sold on a SC.
Suspension: the trick suspension I worked out with MaddMartigan has worked marvelously.
- I checked and as designed, the front bilsteins have held up without any issue and even my booger welds that hold the monoball housing in place in the cup of the top mount stood up to a full day of hard racing. I remain skeptical though that anyone would want this setup on a road car. Sears Point is a relatively smooth track and you can feel every shimmy and surface texture change.
- I should put a G-meter in the car (or run the app on my phone) but you can pull some serious g-forces around the carousel.
- The downside is that that the field we race with has ALSO gotten faster and there's simply no way to remove any more weight from our tbird compared to other more lightweight chassis (3150 ready to race, 3300-3350LB w/ driver, other cars are probably in the 2800LB range).
- We might also not have enough tire for the car now even with 16" rims -- esp in the rain/drizzle. With this stiff a suspension, the car simply isn't as forgiving as previously (you could toss it in the corner, breaking grip on the rear wheels through the whole corner, and catch it at the end). In the 8 races I've personally driven, I've never spun a car in a lemons race and I did it twice in one stint on Sunday morning after the track had been misted all day. This shook me up enough to pit and have another driver relieve me.
- Also, Apparently, if you put enough crap on your car, noone will bounce on the hood, either.
Comm System: Our latest comm system uses a 2G cellular modem on an Arduino to send text messages. Without any wires on the driver it made driver swaps a breeze (no testing necessary as the system sends a "888 TBIRD - Ready to Rock" SMS message upon boot-up) and all of the drivers can walk around w/ their phones and just rush back when they get a message from the car.
- What i did learn was that just because you have a fast and furious style push button on your steering wheel doesn't mean you want the messages to go to that button.
- For several times during the race, we'd rush back and watch to see if the driver was pitting because
- We also learned to NOT turn on the "return to pit" light on the steering column unless WE the pit crew wanted him to return. If the driver fat fingers it and we turn the light on, the driver could be pitting unnecessarily because he thought WE wanted him to pit.
- SOLUTION: Have TWO switches so the driver can send one of two messages: "Returning to Pits for New Driver/Fuel" or "Returning to Pits - Repairs needed". Also, move the damn button.
- This will tell us whether to have the pitcrew dressed in a racing suit (for refueling or to hop in the car) or a repair suit (to fix something).
Incidents/Lessons Learned
* Get a new spare MAF.
* Had a fuel leak from the TOP of the tank after messing with the fuel pickups: We pulled my design of upgraded fuel pickups because it was interfering with the fuel level reading and we NEED that. Solution: the temp fix was to use some gasket maker on the old gasket but Will definitely buy some spare gaskets for a future race OR upgrade to a fuel cell (which is a ton more work to enclose or a $1200 FIA cell). Either way, this is probably the thing we will spend the most money on before the next race (if we decide to do so). The challenge is that even with a larger fuel cell (22gal), most of our drivers (myself included) don't have the endurance yet to do 2-3hr stints.
* We had the fire extinguisher blow up while one of the drivers was out on the track. HE thought he had broken the car and we had the car jacked up and the front wheel off before we realized that the reason the inside of the car looked like the aftermath of a columbian cartel's drug party was because the extinguisher was rolling around behind the driver.
Solution:Mount the Extinguisher in the car better (and duct tape the latch down) and DO NOT TOUCH the extinguisher when refueling (use another extinguisher).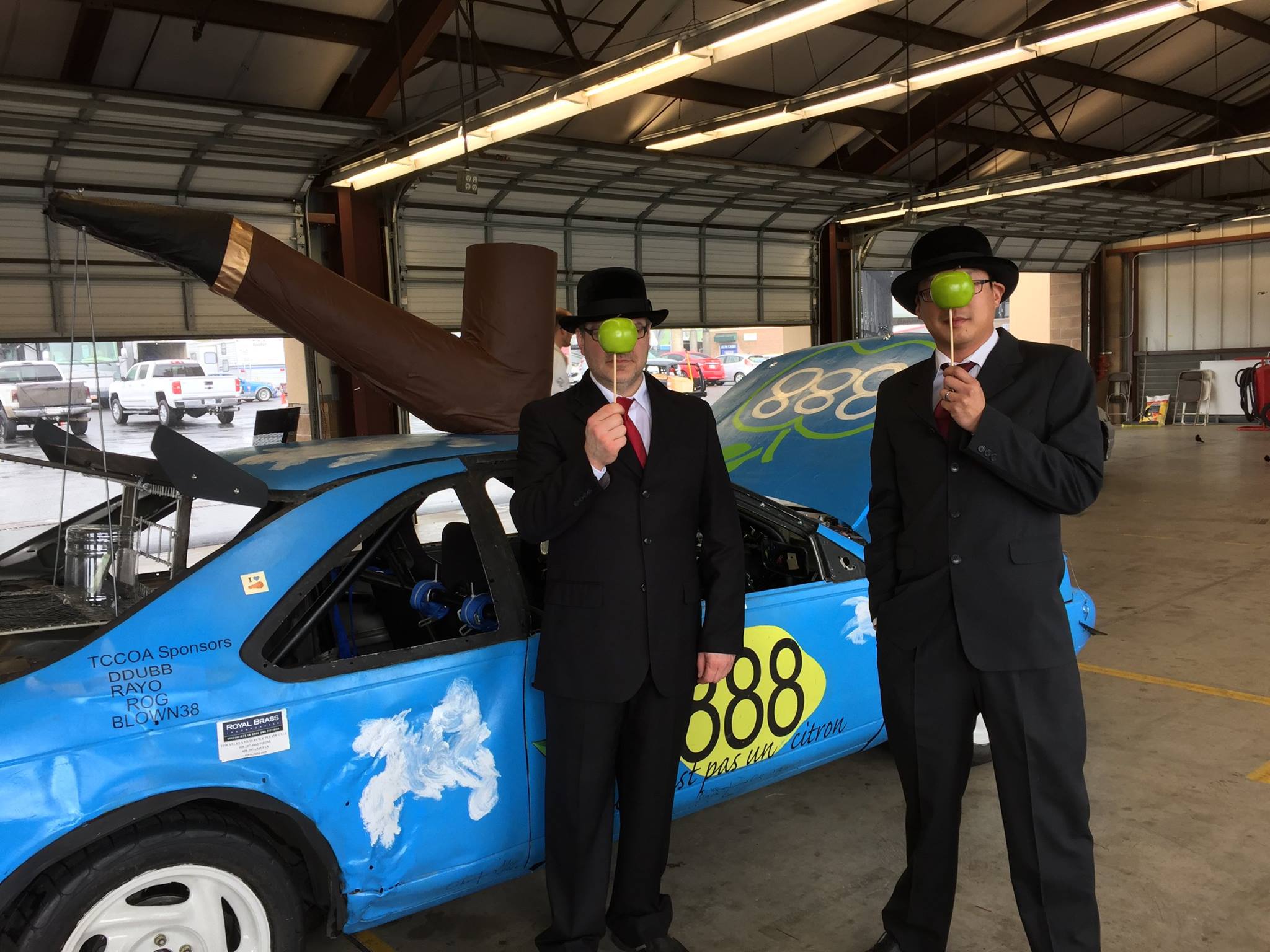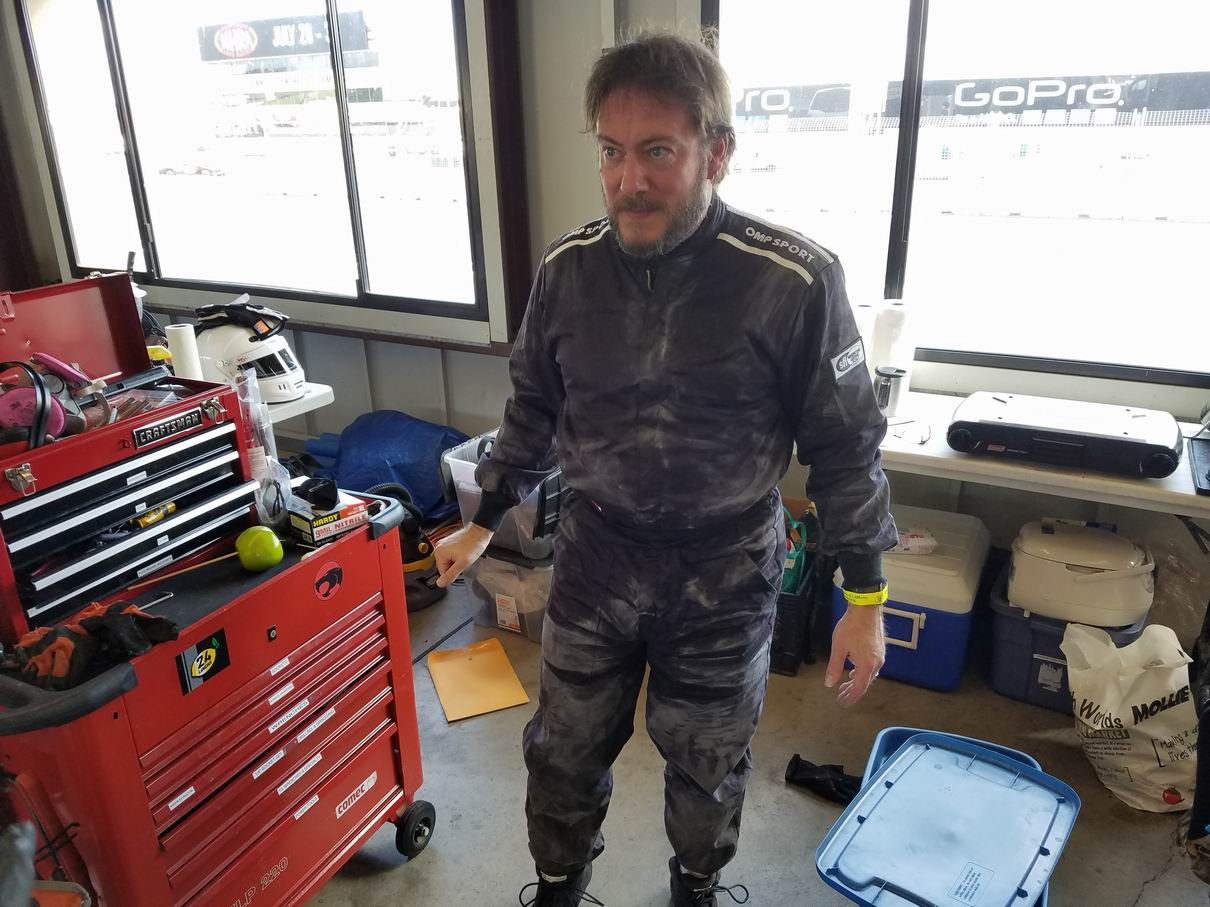 * Another driver lost the back right wheel on the track. I'll get the video clip of him being passed by his wheel soon but luckily, he was already at the edge of the track so he was able to coast into the muddy side. It took more time to get towed back to the pits than it did to swap the axle and get the car back to doing laps again (20min repair and <1hr track time lost)
Upgrade all of the wheel studs: this was the first race where I was starting to feel serious G forces around the carousel at Sears Point -- not quite gokart level G forces but definitely more than before. Studs which were made by domestic american metallurgy 15+ years ago and have since seen 100K+ miles were NEVER meant to take this kind of abuse. They just sheared off.
Solution: find the right ARP wheel studs for the tbird. I'll probably discuss this later in this thread but the plan is to upgrade all studs on the car. This is a must do upgrade.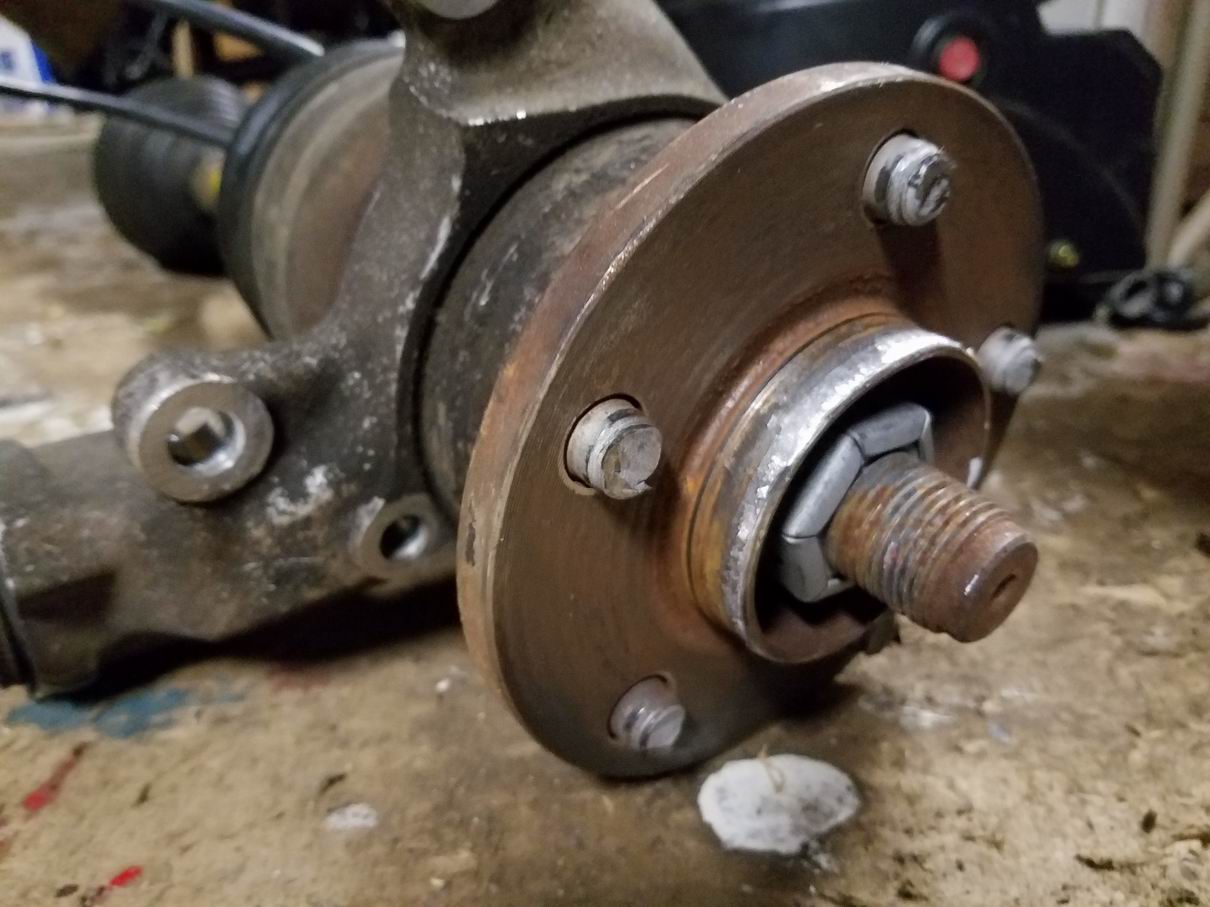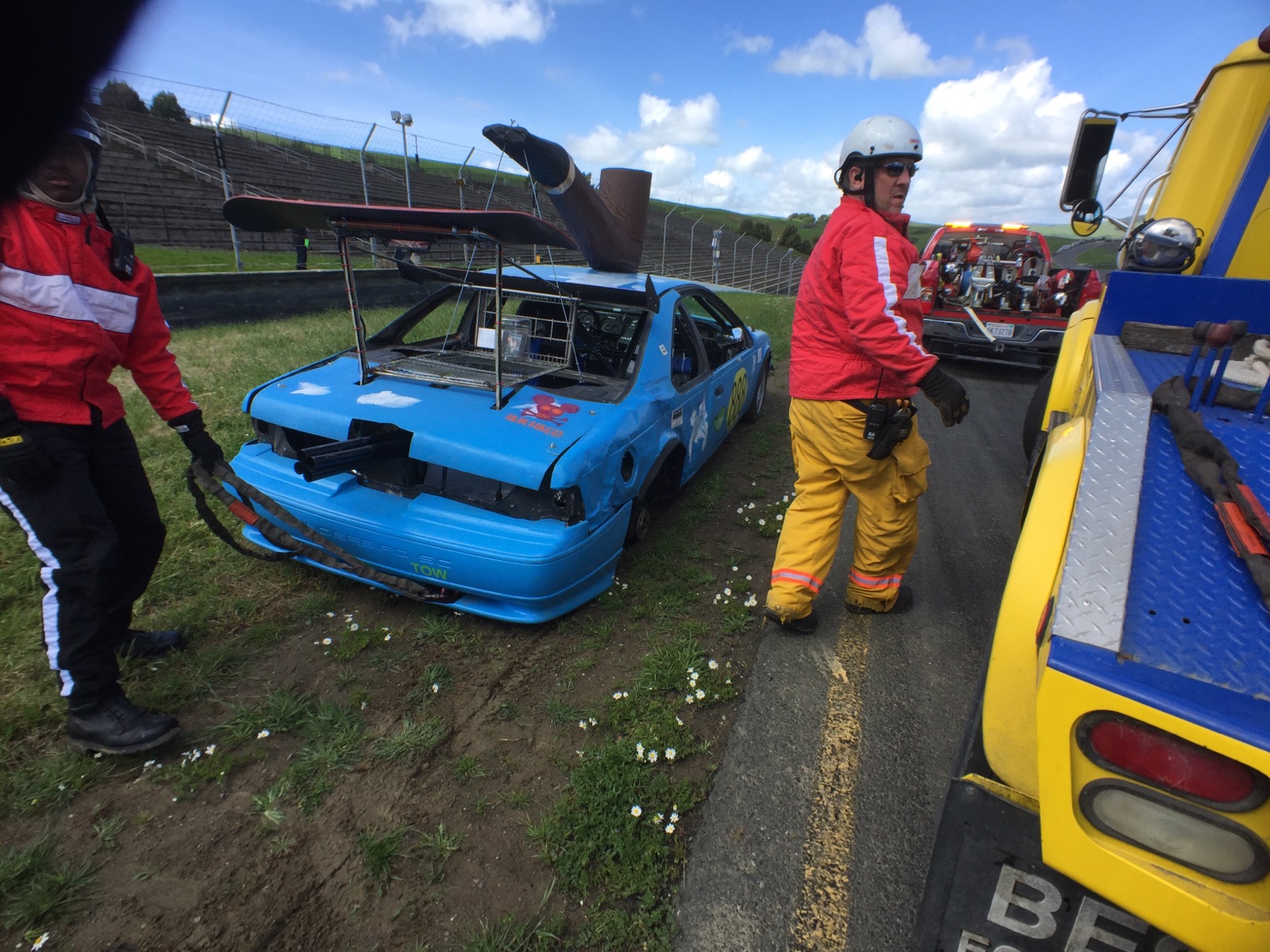 * EGR bung: I forgot this one; on day 2 we blew out the EGR bung cap that I had fabricated. Luckily I could just pull the plug from the spare engine and just tack/booger welded it on. I need to find out the threading so I can buy some spares (for the spare engine and for the main engine).
* Become better drivers: with all the suspension mods, this car is much less forgiving than when we started. With our old V6, we could literally toss the car in the corner breaking traction on all four wheels and have the confidence that we could catch it on the other side. Now though, we make so much power vs. our traction that we can literally break traction in a corner if we give it too much throttle in 3rd around a corner. Quite frankly, when the road was damp I was scared of using this car's full potential. After 8 lemons races (I did one with a friend's team) and several track days I probably have 24-30hrs of on track time. Until this weekend, I had never spun the car in a race (and my friends 3rd gen supra once during a practice session). This weekend I spun our tbird TWICE in one stint -- this shook me up enough that I immediately pitted and had a friend relieve me as a driver with the recommendation that he be very, very cautious until the sun came out and dried things up more.
I can say with confidence now that I've built-up a better car and maintenance/crew than we have drivers. I also need to work out a new, even more ridiculous theme.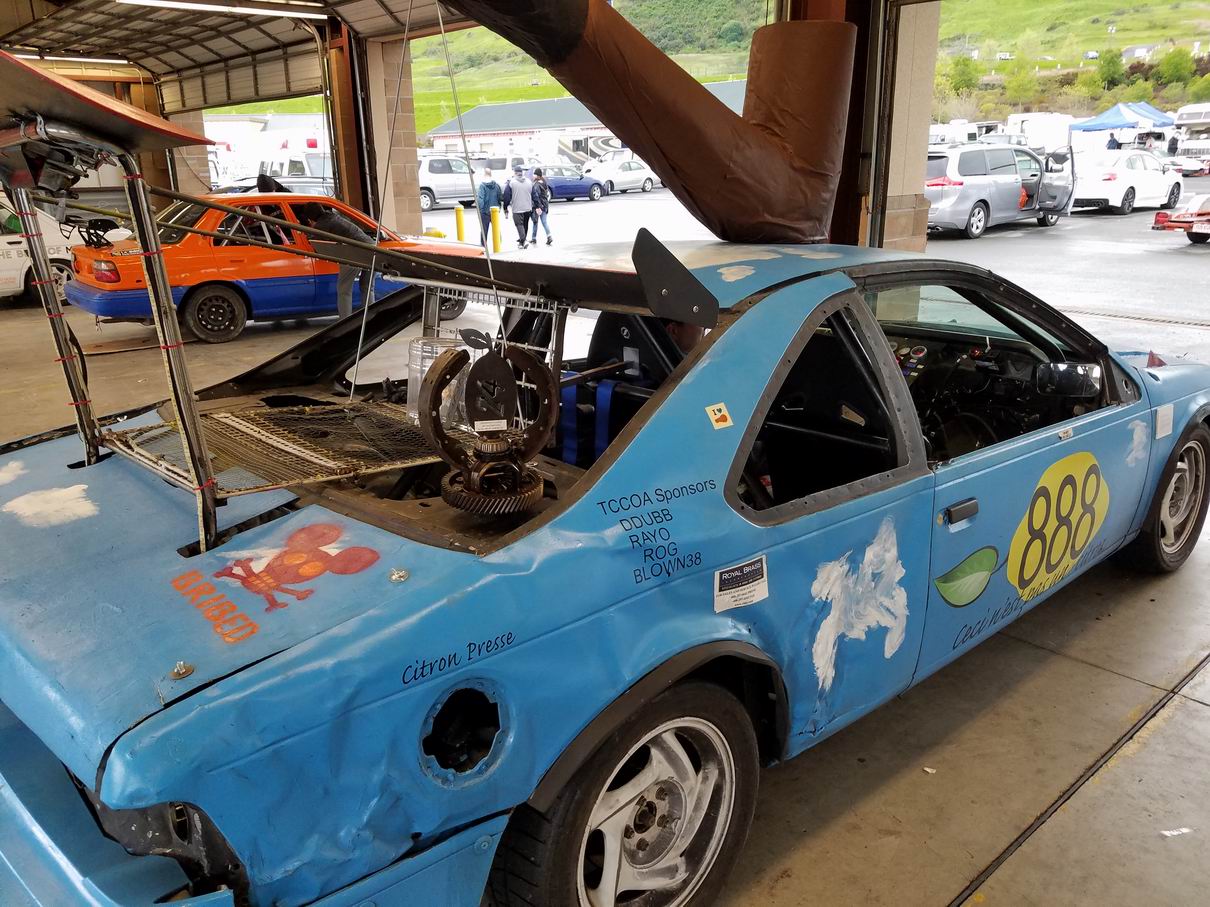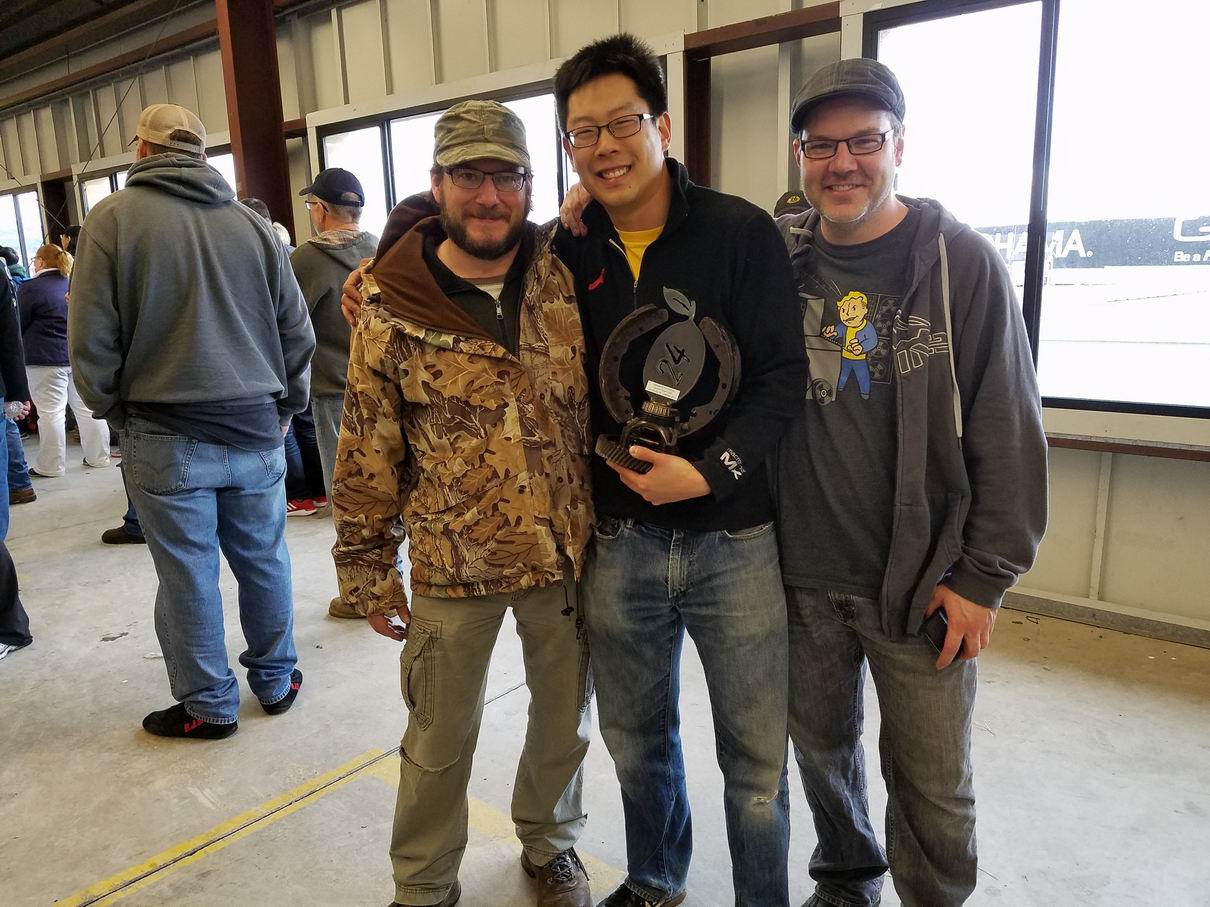 Yes, I'm still the guy in the center, yes, my name is really Gunn, and yes, my eyes get even more squinty when I'm happy.
Thanks again for everyone here who has given me useful suggestions/advice/help.
-g