So I broke an axle... (CV Joint)
Was doing some exaust mods the other day, got done and wanted to see if it sounded good or not.
Pulled out onto the street real slow like, got to about 5 MPH and gagged it, ripped through first and hit second. POP! No power to the wheels. I just knew i had busted an output shaft. The sound it was making sounded like rounded out splines.
Got it back in the shop and spun the wheels to find the Driver side inboard CV Joint was staitionary as I turned the wheel.
Got a new axle for it, was to the point in the process of popping the stub shaft out of the diff and it wouldnt budge. Ended up having to take the pumpkin out and beat the stub shaft out from the inside. Turns out the circlip broke too. The spines in the side gear made it out alive thankfully.
Got it all fixed now but wanted to share some pics, and maybe hear some stories from others who have busted axles/joints.
Here's the pics, click to make bigger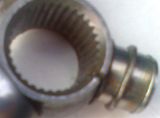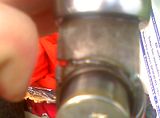 I dont know weather to be mad or proud, lol. These were the ORIGINAL LS axles w/ 203,000 miles on 'em, so they lasted FAR longer than i expected. About 30k miles since the V8 swap.
PS. Sorry for the blurry pics, took these with my camera phone, and the lens is dirty i think.