1994 Cougar XR7 DOHC/5-Speed
Discussion thread:
http://forums.tccoa.com/showthread.php?t=136327
This is a must have/must do mod for those who want to clean up the engine bay, reduce leak points and even improve power steering performance a bit. The factory line's main purpose for taking the rather long/convoluted path(see pic below) it does is to reduce NVH by absorbing pressure fluctuations created by the pump from feeding back through the rack and thus the steering wheel. At least that's the conclusion I have come to.
The stock pressure line... It branches off the pump towards the core support, makes a turn to a crimped flex line which goes to the other end of the core support, goes back to a hardline and back to a flex line above the right strut rod bushing(not that leaky petrochemicals are bad for these or anything
) and eventually goes up to the rack fitting.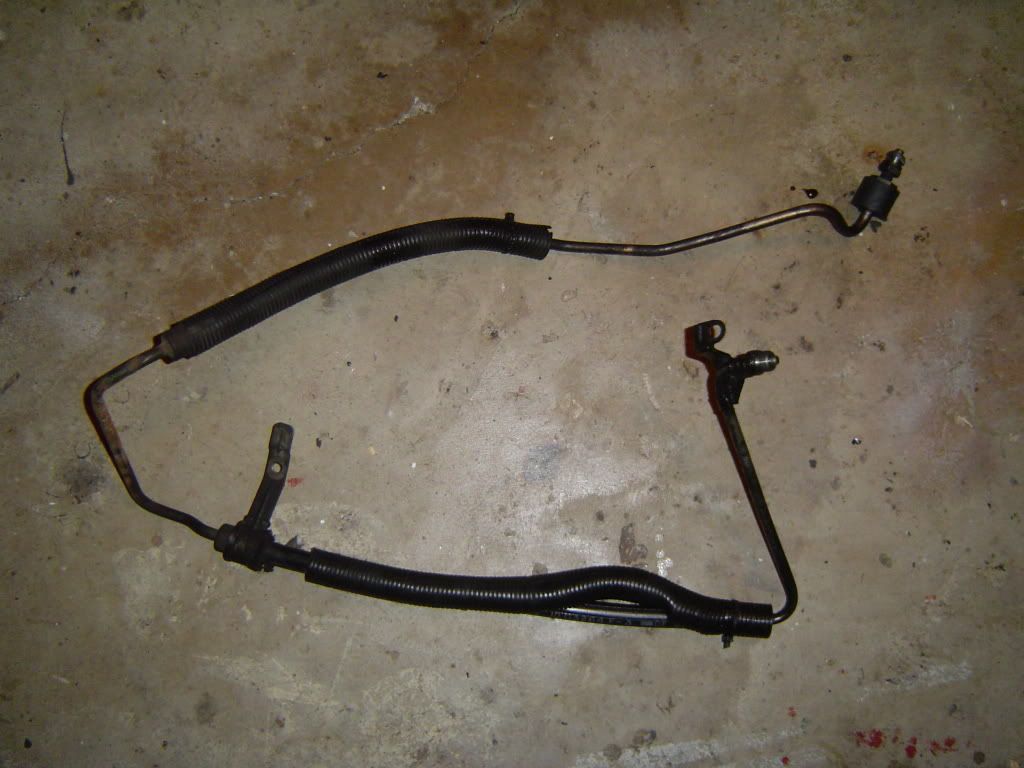 I opted for Aeroquip TFE selections for the hose and ends on my setup and Earls for the metric to -AN adapters, but I have included all quality equivalents. Please note: Russell and Aeroquip hose come in 3 foot sections minimum, Earls is only available at a minimum of 6 foot sections and is nylon braided, for this reason I don't recommend Earls for the hose and ends.
A few have successfully used regular -AN lines and fittings as well, however for piece of mind I seriously suggest getting the power steering specific parts I have listed as regular -AN is only rated at around 350psi(power steering pressures can exceed 1500) whereas the TFE hose and fittings are rated at 3000. The grand total for mine came out to $49.34 for the TFE vs. $39.66 for regular -AN, so the ~$10 or so is easily justified in my opinion.
-6AN Teflon hose
Aeroquip FCC0603 - Aeroquip TFE Racing Hose
Russell Performance 632600 - Russell PowerFlex Power Steering Hose
Earl s Performance 130606ERL - Earl's Performance Power Steering Hose
Straight hose-end fitting
Aeroquip FBM1103 - Aeroquip TFE Fittings
Russell Performance 620401 - Russell Powerflex Power Steering Hose Ends
Earl s Performance 130106ERL - Earl's Performance Power Steering Hose Ends
45* swivel hose-end fitting
Aeroquip FBM1112 - Aeroquip Reusable Hose Ends
Russell Performance 620411 - Russell Powerflex Power Steering Hose Ends
Earl s Performance 134606ERL - Earl's Performance Power Steering Hose Ends
Rack elbow/pump -AN to metric adapters(-6AN to 16mm-1.5) X2
Russell Performance 670530 - Russell AN to Metric Adapter Fittings
You'll need these seals for them as well:
http://www.dormanproducts.com/p-27654-82540.aspx
*note Some have found these adapters block orifices in the pump when installed. It might be a good idea to grind the end of the fitting down(pump side, NOT -AN side) a bit or sandwich a spacer washer between a pair of seals to space it out. only about 1/8-3/16" of an inch needs to be removed
Here's a how to on assembling the hoses(Aeroquip):
http://www.classicperform.com/Instructions/PDF/Aeroquip.pdf
Be sure to not overtighten the adapter on the rack elbow either. The adapter seating all the way down is fine but the elbow can be easily damaged if twisted too hard!
For 4.6s with stock or sport sway bars you'll want to route the hose like so...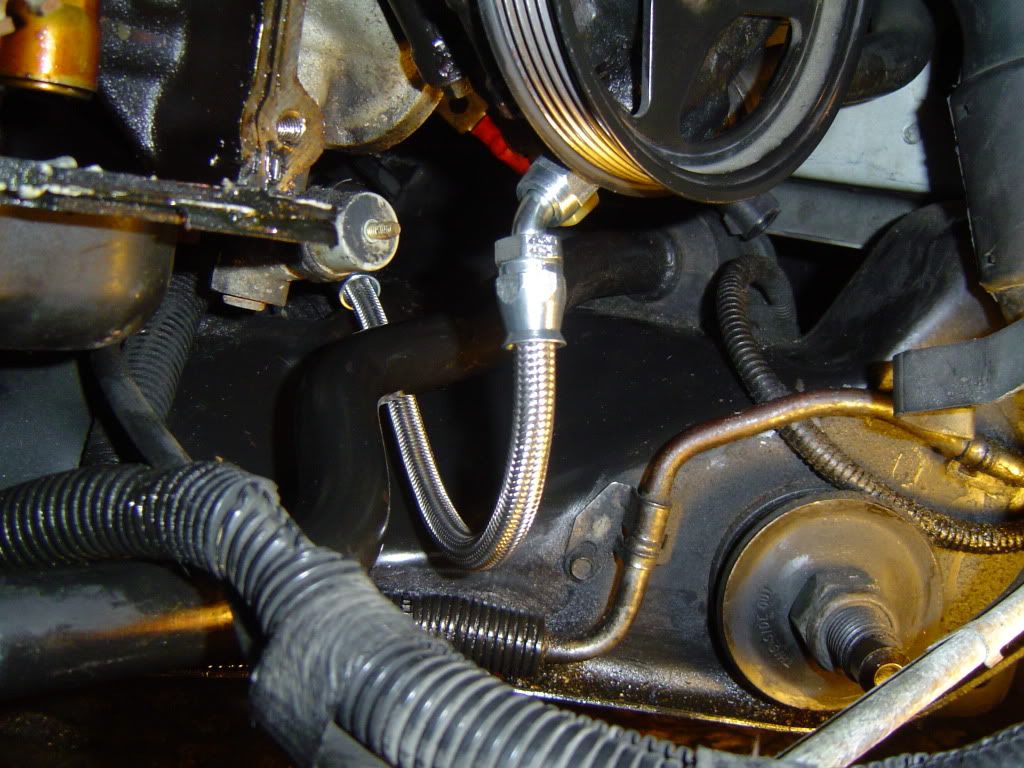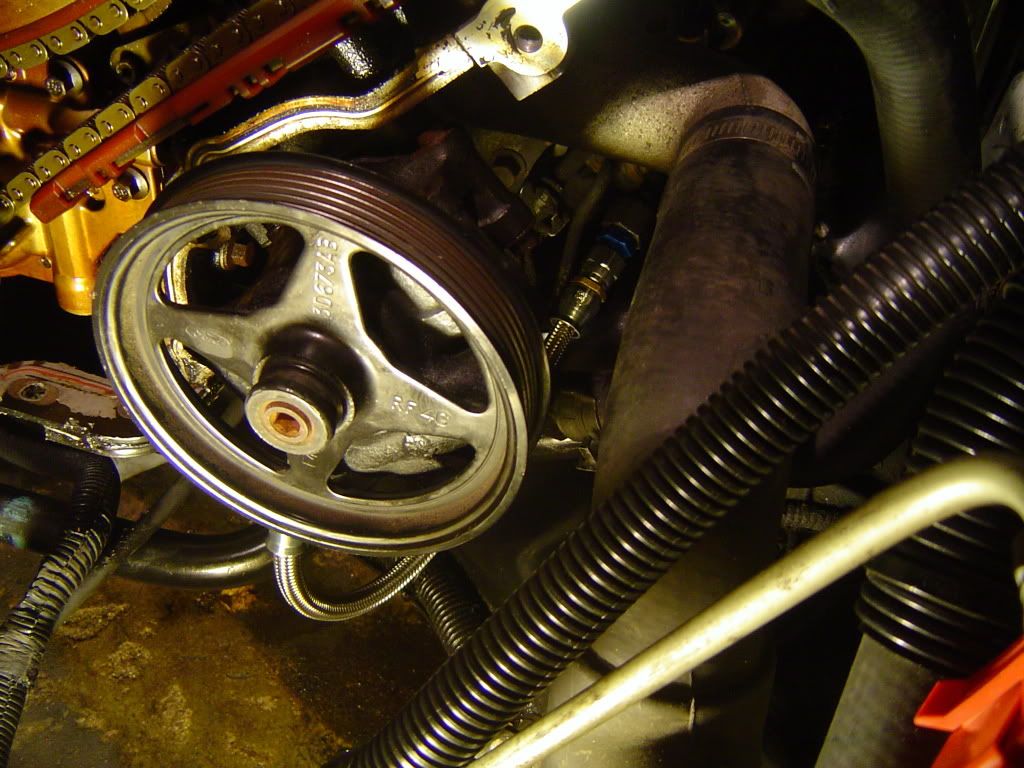 This is using a 10" section of hose with the swivel facing straight down. Sway bar clearance is nearly impossible with alternative routing.
With a 3.8, SC, 5.0 or Addco sway bars you can use this more direct routing path (pics from racecougar and rmfk13)