Discussion Starter
•
#1
•
So a little background on my 1991 Mercury Cougar to understand why I'm doing all this. My mom bought the car new in 1991, it is a 1991 Mercury Cougar LS, which came with a 5.0V8, and was originally red with gray cloth interior. In 1994 it took a good hit to the LF corner, and was brought to a supposedly very good body shop to get repaired. My mom used it as her daily driver from 1991 until 1998, when at 206K miles it threw a serpentine belt and left her on the side of the road. I was 16 at the time, and already loved this car from all the childhood memories, including annual week-long road trips that I used to take with my mom in the summer every year. I begged her not to get rid of it, so she had it towed home, gave me the keys and the title, and said if I got it running I could have it. A little wrenching later and about $125 is parts and I had myself a V8 powered coupe for my first car! I drove the car for that first year, just building up even more great memories with it. When I was 18, I lost my license for a while, so I gave (loaned) the car to my cousin, who had just gotten hers. She drove it for about 6 months, then got into a minor accident in a parking lot with it where the front bumper cover got ripped off, a dent in the fender, and a couple broken lights. At the time I was going to college, and working part time at a Maaco body shop, so I took the car back from her, counted my lucky stars that it was nothing major, fixed the damage, grafted in side scoops from a 99 Mustang, and painted the whole car black with silver racing stripes and "ELIMINATOR" painted on the quarter panels. Probably not the direction I would have taken with it now, but it has become part of the car's identity, so while it will be redone better, it will keep the same scheme.
So the car got repainted, but it still had the original engine, which at this point had over 230K miles on it. When I was 19 I got a job at a mechanic shop that did Mustang performance work, so in the process of learning there, I decided it would be a good time to do some engine work. I bought a low-mileage short-block out of a 95 Mustang, swapped on some GT40 iron heads, an E-303 cam, and a 3000rpm stall converter. I also swapped in a set of black leather SC seats. At the time, I really didn't know what I was doing, and was working with what parts I could get for cheap, so it was not a well thought out package, and the car still wasn't that fast, but it looked good, and now it sounded pretty mean too with the cam! Anyway, I drove the car like that for about 2 years, until one day on the way from North Carolina back up to NJ, the motor lost oil pressure and started knocking. I had a buddy with a truck rent a U-Haul tow dolly and we towed the car back to my mom's house in NJ, where it sat in the garage untouched for several years.
Eventually I had enough money to put together a decent engine for the car, so I brought it to the shop I was working at and went at it. I got a 351W block, sent it out to get bored .030" over, and built myself a budget 393 stroker with some ported Holley systemax heads and a Typhoon intake. At the same time, the auto came out and the car got converted to an M5R2, the cracked gray dash was swapped out to a nice black one, the front suspension got rebuilt, and the car got a set of SC springs and sway bars, and some 17x9 Cobra Rs. Get everything together, and the engine smokes and burns a ton of oil. Compression check showed 190psi on all cylinders, so it couldn't be the rings, tried new valve seals, different rocker arms, adjustable guide plates thinking maybe the rockers were side-loading the valves, catch can for the PCV system, new intake gaskets thinking that maybe it was sucking oil up from the valley, nothing made any difference. The car got parked on the side of the shop until I could mess with it again, and there it sat, under a tree, covered in leaves and pine needles, growing mildew in the interior, and generally being a prime example of the effects of entropy for 6 years!
About a year ago, that shop closed up and I had to move my car. I brought it to my house, pulled the 393 out, washed the car, and started assessing the damage. First thing I did was pull the 393 apart to find out what went wrong. It turns out when I sent it out to get bored .030" over, they only bored it .020" over, and I never bothered to measure the cylinder bore, so it scored the hell out of the brand new pistons and the cylinder walls. When I was putting the motor together, I did have to file all the piston rings to get a good gap, but I didn't think much of it at the time. Anyway, that was my oil control problem, as well as why it had such good compression while still burning a bunch of oil. Somewhere in the interim, I had scored a good deal on a Dart block 427" Windsor shortblock, and separately a set of re-done Pro-comp heads, a comp cam, and a Trick-Flow R intake that had all made 430hp to the wheels on a 408W in a Mustang, so that is all put together and sitting in my garage at home, and will be going into the Cougar. Still not sure what I'll do with the 393, but I did have the bore fixed, and bought all the parts to put it back together. On to assessing the rest of the damage from sitting. I brought the car to the shop and started pulling everything apart. The interior is completely trashed and covered in mildew. The dash is probably salvageable, but the seats, carpet, and headliner are all done. Both doors are completely rotted out along the bottom. The left rocker was starting to bubble in a few places, so that has been cut out and will be replaced with new metal. Luckily the inner rocker structure is completely undamaged. There is a small rust hole behind the right fender where all the dirt and crap accumulates. The passenger side rear floorpan has a bunch of small holes and will have to be sectioned. There is a rust hole at the right hinge pillar up near where the ECM mounts, there is a small hole in the same location on the left side, and probably the most serious problem is the left aprin and upper rail, as well as the left side of the rad support are rotted out. It turns out that high end body shop never restored corrosion protection between the panels, drilled holes in the rad support to pull it, and just covered everything in body filler hoping nobody would notice! A few phone calls today, and I found literally the last new aprin assembly in the country, so $550 including shipping, and it is on its way to me. I'll be on the lookout for a rust-free parts car to get the doors, driver's rocker, rad support, and the panel behind the right fender. This type of structural body work is also well above my comfort level, so I'll be calling in some favors and writing some big checks to get that fixed, but once it is all done, the car should be solid again, and then the car will get POR-15 on every inner panel so I never have to deal with this again, then paint, re-assembly, and hopefully have a crazy small block for powered Cougar. Anyway, here are some current pics. I'll have to dig up some old ones for everyone too.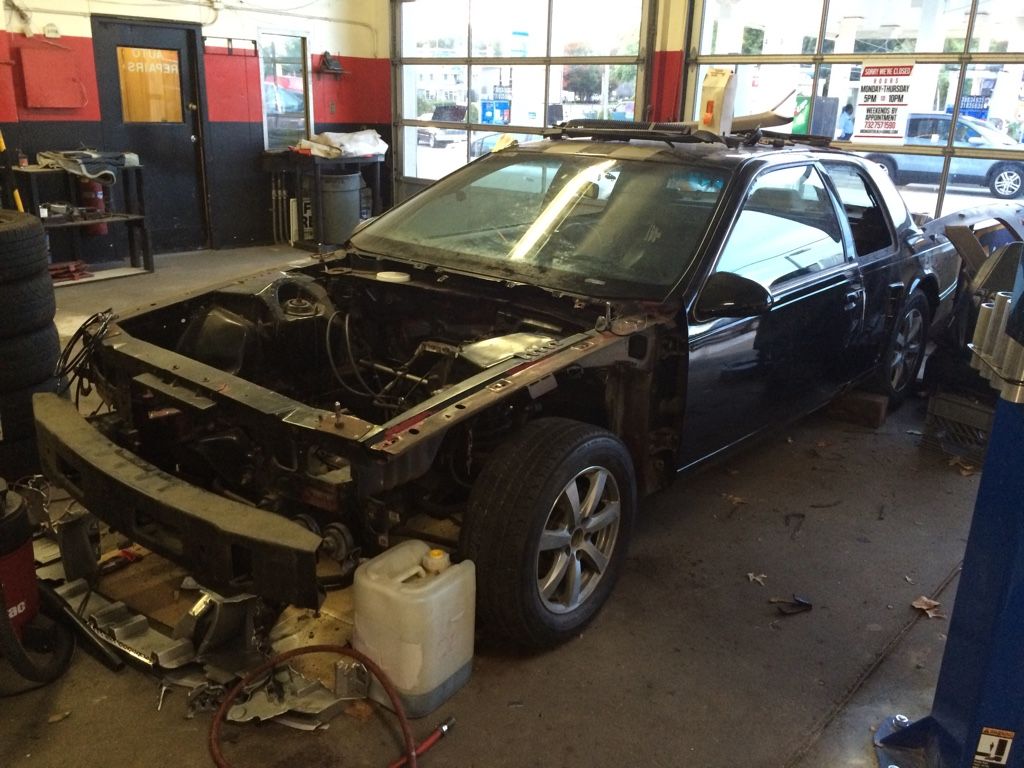 Left upper rail where the rear aprin mounts rusted out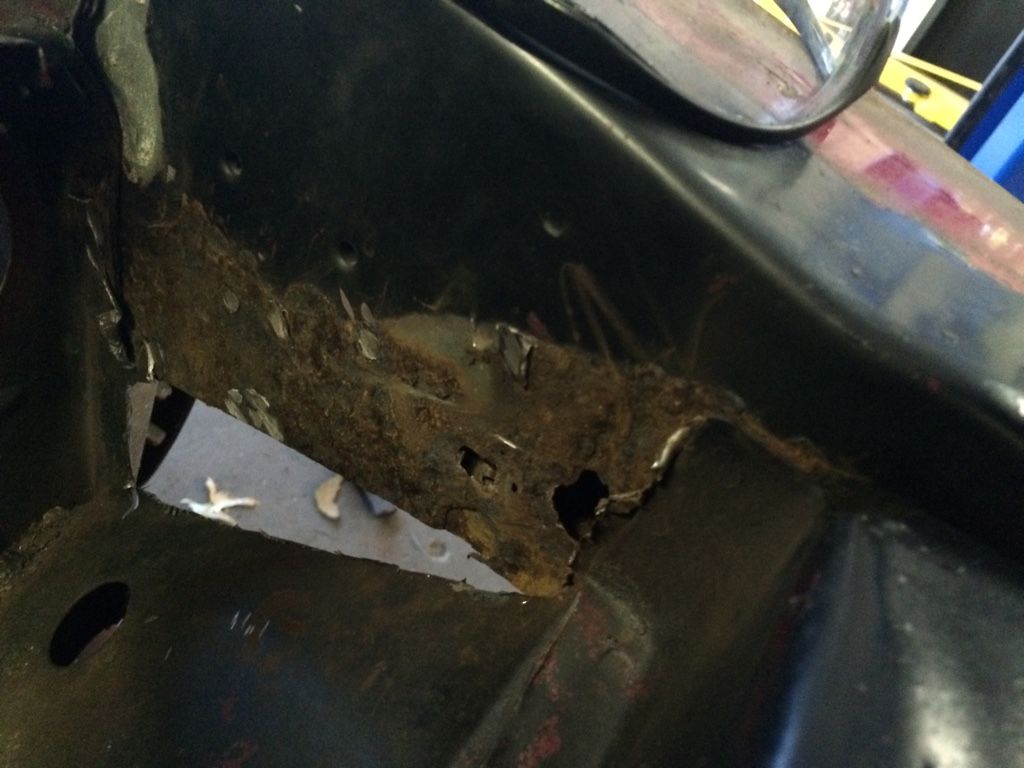 Rear aprin partially cut out. This is looking at where the firewall meets the aprin from outside the driver's side
Heavy rust pitting where the front aprin meets the shock tower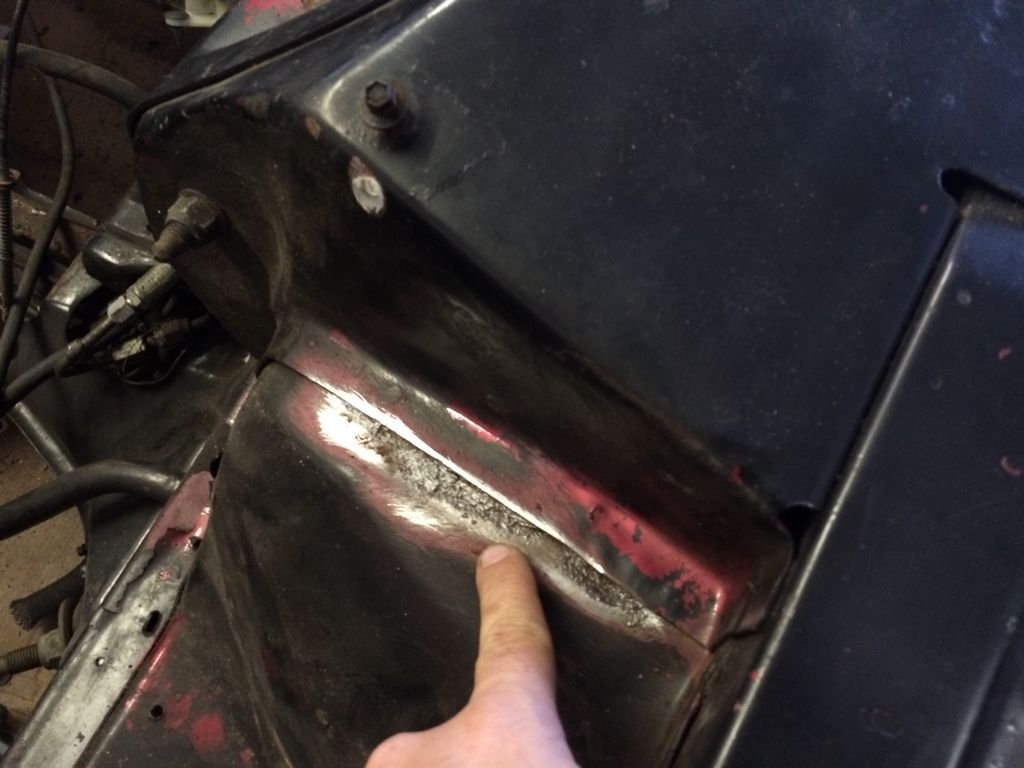 Holes drilled in rad support to pull it, and rad support rusted out. This is behind where the left headlight would mount.
Compromised crush zone in LF that the body shop just covered up with filler.
Area where right upper rail meets the firewall, as viewed from outside the passenger side
Same as above, but viewed from inside the car with the dash and HVAC box removed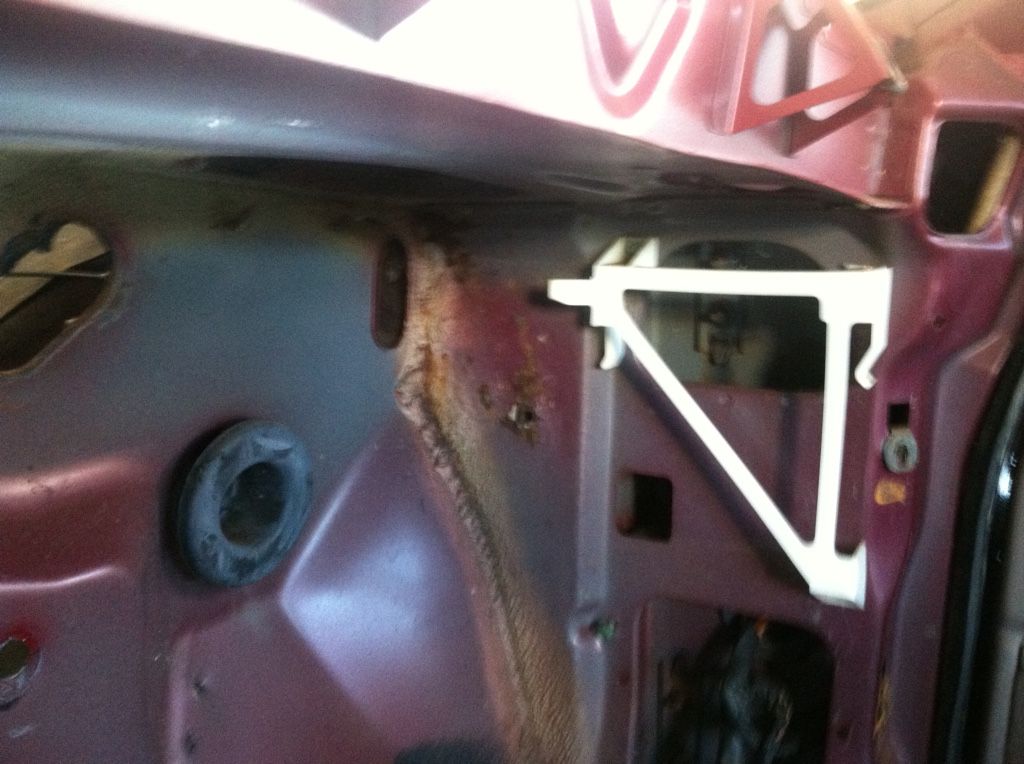 Hole at the bottom behind where the right fender would mount.
Driver's rocker cut out
Bunch of small holes in RR floorboard
Little bit in the channel in the right front floorboard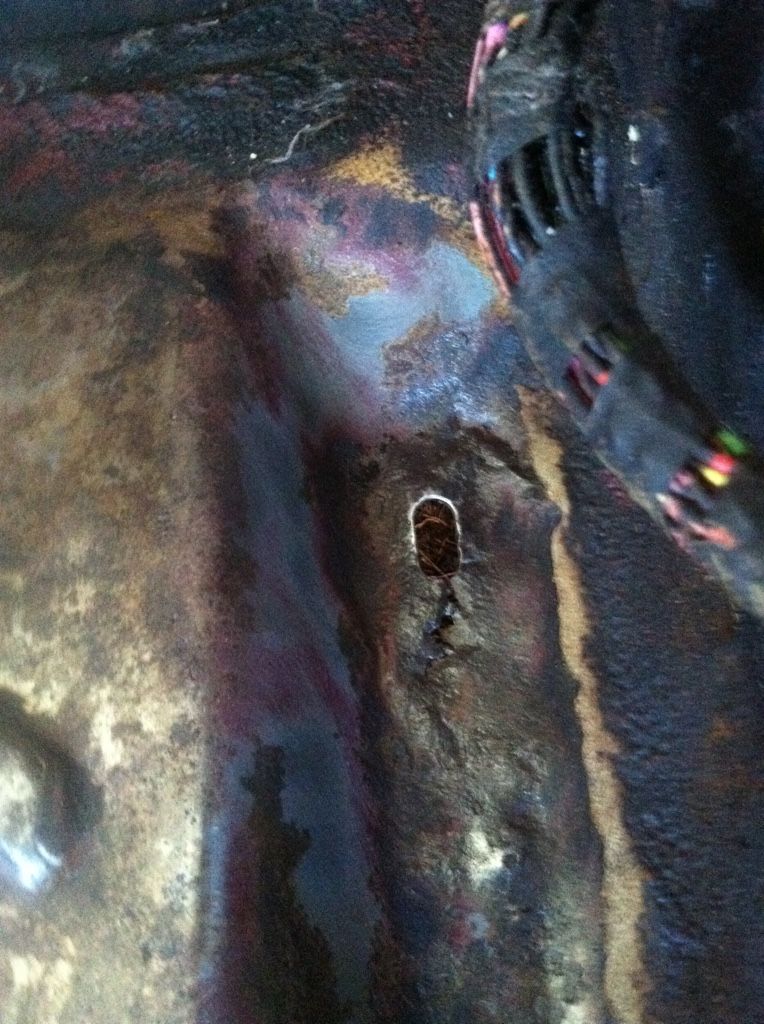 As of now, I probably have about 8 hours of time into just taking everything apart and assessing the rust, not counting removing the engine, which is probably another 6 hours, plus the $550 spent for the new aprin. I'll keep everyone updated on the rust repair and how much time and money it winds up costing me, this way everyone else will know why they shouldn't do what I'm about to do!