·
Listening on 141.850 mHz!
Thunderbird, Cougar, Mark VIII, Mustang hoodliners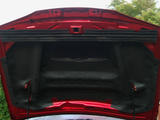 Click on the images to view them larger.
This is a hood liner made of ¼ inch thick closed cell vinyl nitrile foam rubber in the form of a mat, smooth on one side and very durable, effective to over 225 F. It holds up well, much better than the OEM hood pad, keeps the exterior of the hood cool and will not reflect engine heat back down toward your intake. This liner is in one piece with an optional SILVER or RED decal. I currently have the wings decal and will be obtaining the Lincoln logo and the growling Cougar in the circle. If you have any decal ideas let me know and with a jpeg I can come up with something. The decal is applied to the smooth side, it won't come off or slide around, and isn't affected by heat. The decal will be shipped with the liner, and you can install it yourself. Its not hard to place on the liner and instructions are included.
Compare this hood liner to the factory original or factory replacement (if it's even available! Some have been discontinued). This liner is fire retardant, insulates against heat and sound, resistant to oil, chemicals, water and mildew and will not rot but it's not indestructible. If you pull it too hard or gouge it with a tool it will tear. Handle it carefully. It is washable and comes with a colorful decal. The original liner made out of latex foam is not fire retardant, and somewhat insulates against heat and sound. The original liner is not resistant to oil, chemicals, water and mildew and it will rot and come apart.
Used as a hoodliner/sound barrier/absorber for soundproofing the car engine compartments of cars and trucks, it is also useful for boats, (won't absorb moisture) and RVs and their generator compartments. Gives a better appearance than the stock foam hoodliner.
If you have a show car or enter your car in shows my liner will set your engine bay apart from the others. If your car is a daily driver this liner will still make your underhood look great! It adds a cleaner look to your engine compartment.
The liner is hand cut to fit our cars and for now I can offer them for 1987 to 1997 Thunderbirds and Cougars, 1997/1998 Lincoln Mark VIIIs, and 1987 to 1998 Mustangs. I will have the templates for the 1987/1988 Thunderbird Turbo Coupes and 1993 to 1996 Lincoln Mark VIIIs in the near future. I can also conceivably make these for ANY car as long as I have an original liner to work from. Installation is easy using 3M #80 spray adhesive for vinyl nitrile foam rubber, found at Home Depot. 3M #80 adhesive is the ONLY spray-on adhesive recommended for this liner as it stands up to the heat. Use of any other adhesive can cause the liner to sag or come loose, interfering with throttle linkage, pulleys, fan belts, engine components, etc.
This is not a "one-size-fits-all", I have several different templates available to me to make liners for each body style of Thunderbird and Cougar. The 1987 and 1988 models shared the same liner, as did the 1989 through 1993, the 1994 and 1995, and finally the 1996 and 1997 models. The images here are of my own personal 1997 Thunderbird Limited Edition, shown so you may see how they look.
As seen in the images I have this liner installed on my own 1997 Ford Thunderbird Limited Edition, with the decal, and it holds up well, much better than the OEM hood pad. It keeps the exterior of the hood cool and will not reflect engine heat back down toward your intake. It's actually made for covering the firewall and bulkheads in aircraft, is FAA approved, and as such must stand up to forces and temperature fluctuations that our cars don't experience.
One of the biggest sound problems with a vehicle's noise reduction is that sound is coming right up through the hood and then through the windshield. (Because glass is almost transparent to sound!) Car engine noise mixed with road noise blows right through into the passenger compartment. Auto generated sound is mostly low frequency, one of the hardest sounds to block or absorb.
Remove the hood, (mark your bolt mountings) remove/discard all the old insulation. If you have the plastic hood tabs pry them up gently with a putty knife in a back-and-forth twisting motion while prying up. Place hood on a worktable with the underside up. Clean the hood underside thoroughly; "Simple Green" and a soft bristle brush and rags/paper towels work well. Rinse it with a hose and drain the excess water, towel dry or let the hood dry off for about 20 minutes. Test fit the liner dry to line it up with the hood and the fastener holes. It's pre-cut to fit without trimming but if you stretch it, don't worry, you can trim it off at the bottom. Mask off areas to protect from overspray. Apply the 3M #80 adhesive to both material and hood. Apply and press down well. If mechanical fasteners were used on the original material, reuse them if possible. Trimming (if needed) can be done with a sharp Exacto knife.
Hoodliner material can also be used on metal surfaces such as trunk areas and door panels, where reverberation is a problem in high-end sound installations, greatly reducing road noise!
Please note, I can feasibly make hoodliner heat shields for ANY type of vehicle, I could use an original liner as a template! How about you guys in the Fox body Mustang community 1987 - 1993, other year Mustangs, or you Crown Vic and Marauder guys?
Keep in mind that if you were to find factory hoodliners/insulation pads they would run anywhere from $70 to $90 or more depending on model year and availability. They wouldn't have the same quality as these and will become dirty with time.
I accept PayPal, check, or money order. If paying by check I will ship the liner out when your check clears.
Don't pass up your chance to install this great hoodliner on your car! Thanks for looking and if you have any questions please ask!
Hand-made/hand-cut hoodliner made from the material used in aircraft: $85.00

Decal if desired: $15.00

Shipping: $13.00

OFFERED FOR:

1986 to 1997 Thunderbirds and Cougars - Let me know if your '96 has a hood light! I can now offer for the 1987/1988 Thunderbird Turbo Coupe liners!
1987 to 1992 Lincoln Mark VIIs and 1993 to 1998 Lincoln Mark VIIIs
1979 to 2009 Mustangs - includes the '79 to '82 Pace Cars, the '84 to '86 SVO and '96 through '98 Mustang Cobra
1992 to 1997 Ford Crown Vics and Mercury Grand Marquis
1989 to 1997 Ford Probes
1982 to 1987 Buick Grand Nationals and Turbo Regals
1981 to 1988 Chevy Monte Carlo SS
1987 to 1991 BMW 325i
1979 to 1983 Fiat Type 124
1998 to 2002 Toyota Corolla (my father-in-law wanted one!)

Other models coming soon.
Trunk pieces will go for $40, decals would look nice back there too! For the trunk liner, the most feasible way to do this would be to tell me what length and width of material you need and I'll send it to you. You can cut them to fit on your cars using an X-Acto knife. I've compared several Thunderbird and Cougar trunks and the actual contours of the trunks vary from year to year.
These hoodliners are VERY popular with the Porsche 928/911/944, Alfa Romeo, Triumph, MG, etc guys. I've been helping a friend make these for those brands and now I am offering these liners to the MN-12 community.
Contact me via PM or my e-mail address of

[email protected]

if you'd like one.